Oneonta's the Place for Sarah Gordon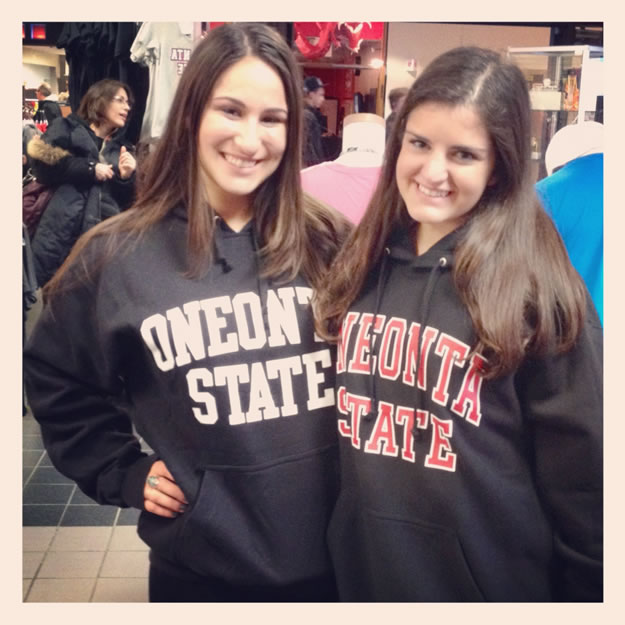 Sarah Gordon is living out her dream at SUNY Oneonta where she is a college freshman. The teenager had wanted to attend the upstate school since she was a Huntington High School sophomore. She got her wish after four years of serious studying helped her build an enviable academic record.
Ms. Gordon said her goal to attend Oneonta "was always one of the reasons why I worked so hard in school. The work really paid off! I could not be any happier here." The Huntington Class of 2012 member has easily adapted to life on campus and has settled into a routine that suits her just fine.
"My moving in experience was very warm and welcoming," Ms. Gordon said. "It was the easiest adjustment to get used to the college life. It is everything I hoped it would be and more. I love that I chose to live in an all freshman dorm, because everyone could relate to each other's new freshman year experience. I had already met my roommate at orientation, so that was one less thing an anxious freshman would have to worry about. She has become one of my close friends here and we get along well."
The Huntington grad was on the Oneonta campus far in advance of the start of the academic year. "The first week of college, there was no classes and that was the time we all met many new people and made new friends," Ms. Gordon said. "When classes started, I realized that this was not going to be all fun and games and the course work at college is much harder than high school. However, we have much more time to do the work, with only three hours of classes a day."
During her years at Huntington High School, Ms. Gordon was involved in a variety of activities and leaving her alma mater was not an easy thing to do. "The last day of school was such a weird feeling and packing our car with all my stuff for move-in day was even weirder," she said. "It was a mixed emotion, because I loved high school so much. It was hard to leave behind my friends and family, but at the same time I could not wait to move into my new home!"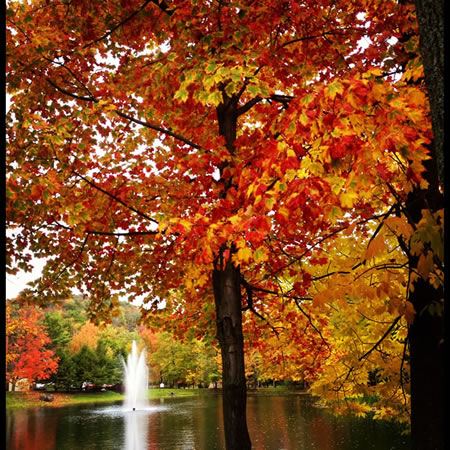 Although she always wanted to attend SUNY Oneonta and looked forward to it for months, it was a little heart wrenching for Ms. Gordon to actually cast off from her hometown mooring. "Whenever I would get upset about leaving, I would remind myself how much I was looking forward to my new experiences," she said. "Everything about going to college was exciting for me, including shopping for my dorm and going to orientation over the summer. Now I am privileged to consider both Huntington and Oneonta as my homes."
Ms. Gordon recently returned to town for a short visit. "Oneonta happened to have a long weekend break during Huntington's homecoming weekend," she said. "It was great to see everyone, see the floats and sit at a homecoming football game for another year. Of course, I brought my blue and white pom-poms and wore my Huntington hat and shirt to show my Blue Devil pride! It made me realize how fortunate that I am to be a Huntington High School alum."
The Huntington grad and her roommate at Oneonta are both fashion merchandising majors. In her first college semester, Ms. Gordon is enrolled in general classes along with one for her major. Socio-Psychological Aspects of Dress is described in the course bulletin as "An examination of the use of dress to communicate social roles, status, aesthetic ideas and interrelationship with social and cultural institutions such as religion, economics and politics." Mr. Gordon said the class discusses "all different types of theories and reasons for why people dress the way they do."
In the spring semester, Ms. Gordon plans to enroll in two more fashion classes related to her major. "It is more interesting to take a class that will be useful for my future career," she said. The Huntington alum joined Oneonta's Student Fashion Society, a club for fashion majors and those interested in fashion.
"SUNY Oneonta is the perfect school for me," Ms. Gordon said. "It is beautiful here right now, with so many trees of all different shades of bright colors. We can see the mountains filled with trees and it looks amazing. It is already getting colder here (10 degrees colder than Long Island) and winter will come around soon!"
With the benefit of her extensive experience, Ms. Gordon has some sage advice for current Huntington students. "I would encourage anyone in high school to try their best, because it so rewarding to get into the school you want to go to," she said.
If any Huntington High School student is planning to take a tour of Oneonta, Ms. Gordon said he would "more than happy to show them my new home!"