Blue Ribbons of Excellence Awarded
at Art Show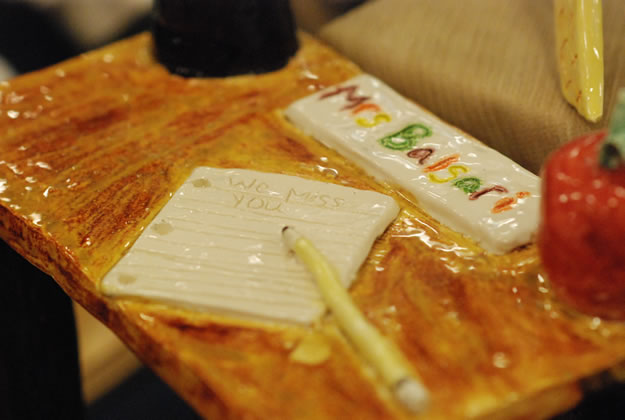 An estimated 2,000 visitors explored last week's Huntington School District art show, with many expressing pleasant surprise that the work was produced by students ranging in age from five to 18.
The pieces displayed covered nearly every genre of art. The annual event is timed to coincide with the district's budget vote and trustee election. Voters were encouraged to walk down the high school's main hallway from the lobby to the gym, where thousands of works awaited visitors.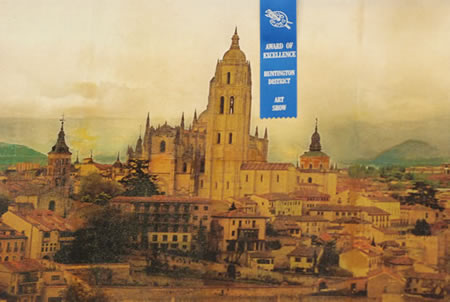 "As always, the breath of creativity and professionalism displayed in the district art show was amazing," said Joan R. Fretz, Huntington's director of fine and performing arts. "As you walked through the elementary, middle school and high school exhibits, you could clearly see the technical and expressive skills that our students are developing in every project."
Last Tuesday there were also two fashion shows, which were enjoyed by standing room only crowds. The shows showcased the high quality work of students in the high school fashion design program.
Many elementary school age children and their parents turned out in the high school gym to browse around the show. Some had pieces on display, but others came to see the work of friends and to wander through the impressive high school sections.
"Putting together the show is an enormous undertaking," Mrs. Fretz said. "Thanks to all of our art teachers and the buildings and grounds staff members for their assistance. We also appreciate the use of the gym and the cooperation of our physical education teachers in making this annual event possible. I hope the community enjoyed the show!"
The finest pieces on display were honored with a Blue Ribbon of Excellence Award. Many award winning artists were scene posing near the honored artwork as parents snapped photos.
The blue ribbon honorees included:
Flower Hill Primary School

Student
Medium
Art Teacher
Amanda Blitz
Watercolor/Pencil
Jackie Plesent
Mekai Butts
Oil Pastel Portrait
Kim Valerio
Beanna Cumella
Watercolor
Kim Valerio
Aria Hannah
Paint/Paper/Glue
Jackie Plesent
Sophia Kaloudis
Watercolor/Oil Pastel
Jackie Plesent
Aedon McDonald
Sculpture
Kim Valerio
Nia Sakellopoulous
Acrylic Paint
Jackie Plesent
Gabrielle Trimboli
Painting/Drawing
Kim Valerio

Jefferson Primary School

Student
Medium
Art Teacher
Emilie Avis
Acrylic Paint
Maria Mazzola
Maria Andradi
Collage
Maria Mazzola
Skylar Basso
Printmaking
Maria Mazzola
Alex Bellissimo
Oil Pastel
Maria Mazzola
Jennifer Low
Oil Pastel
Maria Mazzola
Kenneth Maldonado
Pastel
Maria Mazzola
Diego Martinez
Pastel
Maria Mazzola
Douglas Segobia-Ticas
Sculpture
Maria Mazzola
Matthew Cartwright
Colored Paper
Maria Mazzola

Southdown Primary School

Student
Medium
Art Teacher
Jehilyn Velasquez
Paint/Pencil/Paper
Jackie Plesent
Taylor Case
Watercolor/Glue Painting

Jackie Plesent
Nicky Danseglio
Paint/Watercolor/Pencil
Jackie Plesent
Ryan Knowles
Metallic Mixed Media Sculpture
Karen Morea
Sophia Knutson
Layered Scratchboard
Kim Valerio
Paola Salinas-Lemus
Paint
Jackie Plesent
Kate Sheron
Pastel
Karen Morea
Jaymie Nemley
Sculpture
Kim Valerio

Washington Primary School


Student
Medium
Art Teacher
Samuel Cirlincione
Mixed Media
Karen Morea
Oskar Kilgour
Oil Pastel
Maria Mazzola
Jaiden Motley
Sculpture
Maria Mazzola
Danny Quiles
Pencil
Maria Mazzola
Gracie Renkenwit
3D Mask Collage
Maria Mazzola
Charlotte Soljanich
Pastel
Maria Mazzola
Stephanie Wickey
Oil Pastel/Tempera
Karen Morea
Ryan Williams
Pastel
Maria Mazzola

Woodhull Intermediate School

Student
Medium
Art Teacher
Jackie Caravetto
Chalk Pastel
Todd Hiscox
Alex Cartwright
Clay
Todd Hiscox
Sigrid Cassell
Clay
Todd Hiscox
Peter Ciccone
Chalk Pastel
Todd Hiscox
Christina Deluca
Tempera Paint
Todd Hiscox
Caroline Lemze
Oil Pastel/Watercolor
Todd Hiscox
Nicole Muszynski
Chalk Pastel
Todd Hiscox
Anthony Puglisi
Cut Paper/Watercolor
Todd Hiscox
Alex Rivera
Colored Pencil
Todd Hiscox
Marlon Rosales
Sharpies on Transparency
Todd Hiscox
Ariana Strieb
Watercolor
Todd Hiscox
Jasmine Taylor
Oil Pastel/Watercolor
Todd Hiscox
Sydney Vanden Valentyn
Scratchboard
Todd Hiscox
Christina Varady
Clay
Todd Hiscox
Nicole Walsh
Colored Pencil
Todd Hiscox

J. Taylor Finley Middle School


Student
Medium
Art Teacher
Emma Bausch
Watercolor
Ayallah Jeddah
Aaron Feltman
Watercolor
Mark Belton
Holly Grabowski
Clay
Mark Belton
Ella Graeff
Mask
Ayallah Jeddah
Maya Hoffman
Colored Pencil/Marker
Ayallah Jeddah
Anjali Kapur
Collage
Devin Auricchio
Tea Khokhar
Grid
Ayallah Jeddah
Ekaterina Koulakova
Colored Pencil
Mark Belton
Alex Koumas
Watercolor
Mark Belton
Taylor Moreno
Colored Pencil
Mark Belton
Jean Morgenstern Notan
Paper Design
Ayallah Jeddah
Dylan Schedler
Ceramic Clay
Mark Belton
Allie Smith
Colored Pencil
Ayallah Jeddah

Huntington High School

Student
Medium
Art Teacher
Julianna Barca
Digital Collage
Kasmira Mohanty
Claire Beach
Fabric
Amy Worth
Zach Burden
Photography
Pamela Piffard
Creative Crafts Class –
Periods 1 and 9
Glass Mosaic
Amy Worth
Nicole Caputo
Watercolor
Kristin Singer
Stephen Caruso
Video 2
Heather Swan
Andrea Cerini
Digital Typography
Kasmira Mohanty
Honor Corbly
Dress
Amy Worth
Naima D'Ennery Dejuie
Plaster
Devin Auricchio
Justin Engelsher
Video 2
Heather Swan
Sal Franco
Digital Illustration
Kasmira Mohanty
Carly Glowacky
Photography
Pamela Piffard
Megan Hansen
Dress
Amy Worth
Kristin Hartmann
Photo Canvas
Pamela Piffard
Bianca Iarrobino
Acrylic on Canvas
Kristin Singer
Kaylyn Johnson
Photography
Pamela Piffard
Yasmi Campos-Larin
Media Arts/Word Portrait
Heather Swan
Rebecca Leach
Mixed Media
Kristin Singer
Olivia Liepa
Acrylic Paint on Canvas
Devin Auricchio
Sara Lockwood
Video 2
Heather Swan
Adam Long
Plaster
Devin Auricchio
Roxana Moreira
Digital Collage
Kasmira Mohanty
Benjamin Nikodem
Watercolor
Kristin Singer
Hayley Petrizzi
Ceramics
Lorraine Costello
Molly Prep
Photography
Pamela Piffard
So Yeon Park
Plaster
Devin Auricchio
So Yeon Park
Graphite
Lorraine Costello
Zaira Ramirez
Embroidered Pillow
Amy Worth
Kiara Roman
Ceramic
Devin Auricchio
Melissa Rosenberg
Video 3
Heather Swan
Ruth Seide
Basketry
Lorraine Costello
Nitika Shah
Fashion Illustration
Amy Worth
Nikki Smoot
Photography
Pamela Piffard
Maria Sorrentino
Dress
Amy Worth
Lindsay Sullivan
Media Arts/Monochromatic
Heather Swan
Kerry Tate
Charcoal
Lorraine Costello
Anna Tesoriero
Ceramic
Devin Auricchio
Josh Toor
Digital
Kasmira Mohanty
Samantha Verme
Charcoal
Lorraine Costello
James Walsh
Acrylic on Board
Kristin Singer
Alexis Weitzner
Digital Collage
Kasmira Mohanty
Sarah Whelton
Acrylic on Board
Kristin Singer
Robert Yates
Glass Mosaic
Lorraine Costello