Matt Beeby Gets an Education
at Delaware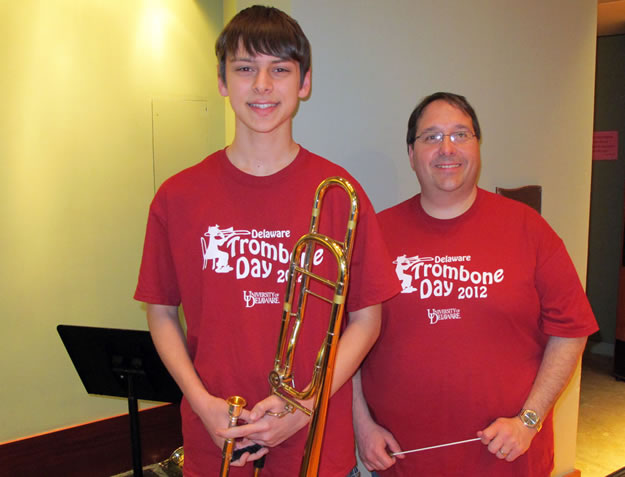 Matt Beeby leaves no stone unturned. He's smart, musically talented and fun to be around. The Huntington High School junior is increasingly turning his attention to what comes next in his life. He's a planner and the teenager is busy covering all the bases.
"I've started to think about colleges and heard that the University of Delaware was a great school with an excellent music department and top marching band," Mr. Beeby said. "Besides, one of my favorite [Huntington] teachers, Mr. [Brian] Stellato, is a UD graduate, so I definitely had to check it out. While planning my campus visit, I noticed that the UD trombone studio was hosting a Trombone Day, so I planned my campus tour for the same weekend."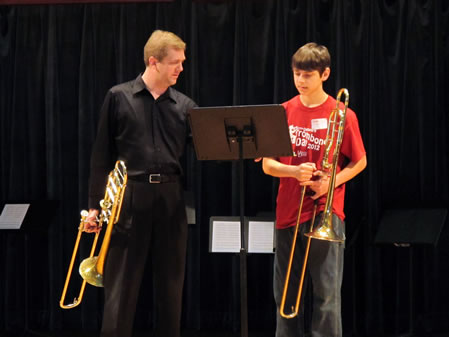 Mr. Beeby and his trombone are best friends. It's an instrument he is working to master and his continually improving skills have gained the attention of others in the field.
"Trombone Days are fun events where trombonists get together in a large group to play as a mass ensemble," Mr. Beeby. "The UD Trombone Day looked really great because it was literally a whole day of rehearsing, performing, listening to guest artist's recitals and performances by UD students."
The Huntington junior noticed the registration form for the program offered two high school student trombonists the chance to perform for a guest artist in an advanced master class and naturally he was intriqued.
"A master class is a music lesson taught by a prominent musician in front of an audience where a student is instructed in performance and technique," Mr. Beeby said. "I thought this sounded like a great opportunity, so I prepared two contrasting pieces, recorded them, and sent them to the UD trombone professor, Dr. Bruce Tychinski."
When Mr. Beeby checked his computer and noticed he received an e-mail from Dr. Tychinski indicating the teenager was one of the two high school trombonists chosen to perform for Dr. John Tranter, a trombonist for the Minnesota Opera Orchestra, he was "really excited."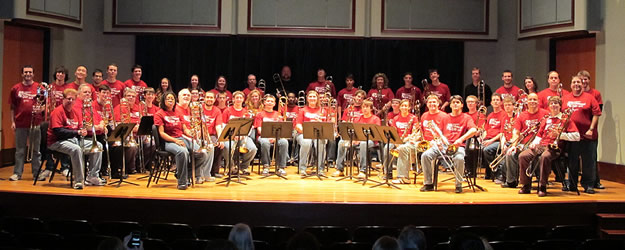 The master class was scheduled for Gore Recital Hall on the University of Delaware campus, with the entire group of Trombone Day participants sitting in the audience. "I was pretty nervous, but Dr. Tranter complimented my performance and the audience was very supportive," Mr. Beeby said. "He then worked with me on my breathing and projection and had me re-play portions of my solo using his suggestions. His advice was invaluable and I have incorporated the tips he gave me into my daily practice."
When he wasn't participating in the master class, Mr. Beeby was rehearsing for the end of day trombone ensemble performance. This was a trip with a purpose and Mr. Beeby was on a mission and was all business.
"In between rehearsal times, we were treated to an awesome performance by Dr. Tychinski and his two graduate assistants, a recital by Dr. Tranter on tenor and bass trombones, a performance by the UD Slides (a jazz trombone ensemble), and the UD Jazz Lab I who played with guest artist Paul McKee, an amazing jazz trombonist from Florida State University," Mr. Beeby said.
The Huntington teenager said the mass trombone ensemble included professionals, amateurs, college students, and high school students, some coming from as far away as Oklahoma.
"Our final performance as an ensemble was a huge success and like Dr. Tranter said, it was a great day to 'geek-out on trombone,'" Mr. Beeby said.