Junior's Artwork Enhances
Flower Hill Office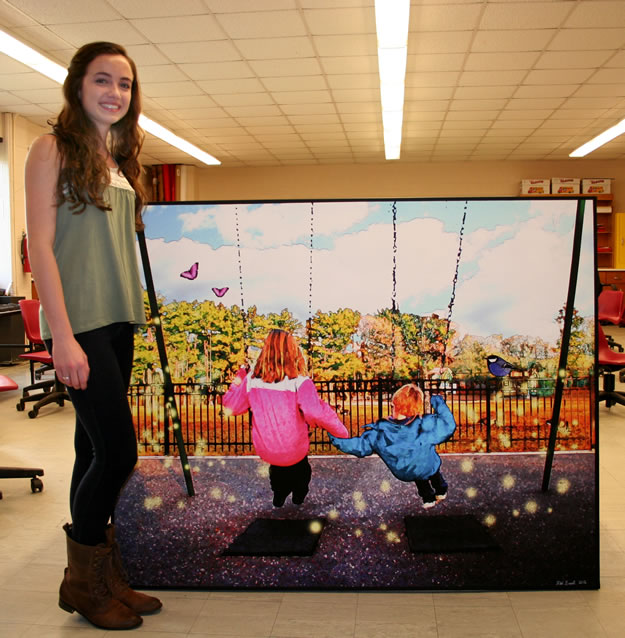 When Nina DiGioia realized her office needed a little pick-me-up she put in a call to the national art honor society chapter at Huntington High School. The school psychologist is quite happy with what junior Nikki Smoot created.
"Nina contacted us and wanted to know how she could have a mural created for her office," said teacher Kasmira Mohanty, who serves as the art honor society's faculty advisor. "It's the first time I met Nina."
Ms. Mohanty brought the request to the attention of her students. She shared with those teenagers interested in the project some of Ms. DiGioia's suggestions for the artwork. Armed with this information the artists quickly went to work.
After the students submitted their work to Ms. Mohanty, she forwarded the images to Ms. DiGioia who selected Ms. Smoot's. "The piece was created from a photograph that Nikki took that she experimented with in Photoshop," Ms. Mohanty said.
Ms. Smoot recently earned a Best in Show award at the Long Island Media Arts Show at Five Towns College. She is gaining a reputation as a top young photographer. "My office does not have windows and she created a picture of two children swinging in a playground outside," Ms. DiGioia said. "It completely changes the office!"
Huntington's art honor society chapter has been engaged in a hallway beautification campaign at the high school this year. With the Flower Hill initiative, it is now branching out. Ms. DiGioia called Ms. Smoot's finished product "a beautiful piece of art."