Madison Biernacki is Driven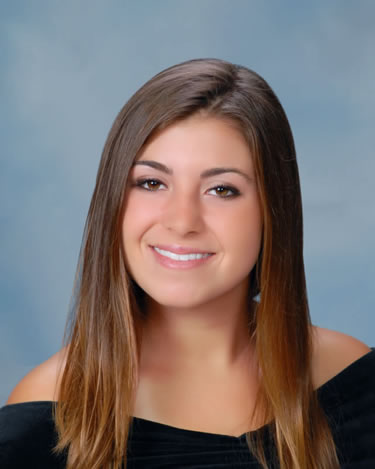 Madison Biernacki is a humble sort of person. She exudes confidence and enthusiasm, but there is certainly no conceit. She has a modest nature and a peaceful disposition and without a doubt, the Huntington High School senior is an athletic and academic force to be reckoned with.
"Madison is a diligent worker consistently demonstrating that she has the fervent ability to succeed at college level work," said Bernadette Walsh, Huntington's college counselor. "She has made mature academic decisions, demonstrating a marvelous work ethic."
To boil it down, Ms. Biernacki is driven. She's a self-motivated young woman who has been devouring as many high school experiences as possible over the past four years. The teenager is involved in all sorts of activities, from the varsity field hockey and lacrosse teams to Huntington's National History Day club.
"Madison is known as the go-to-gal, for she knows just about every senior and every faculty member, so if you want something done and you want it done correctly, you simply seek out Madison Biernacki," Mrs. Walsh said.
Ms. Biernacki has many academic talents, including being able to take highly complex material, interpret it and simplify its meaning for herself and her classmates. "Teachers comment that she is a delight to have in class; a proactive student whom you look forward to teaching because of her enthusiasm and love of learning," Mrs. Walsh said.
Nancy Wilson has worked with the teenager for the past three years, coaching Ms. Biernacki in both field hockey and lacrosse. "Madison is a dedicated, compassionate, thoughtful and positive individual who has a profound impact on those around her," Ms. Wilson said. "Her bright smile is welcoming and supportive while her inner core is vibrant, tenacious and loyal. Madison is able to connect with diverse groups of peers and is able to accept leadership roles both on and off the field."
The senior has devoted an enormous amount of hours to the Blue Devil sports program, training and competing year-round, expertly juggling academic, athletic, family and personal responsibilities.
"Madison has also supported the development of younger athletes through leading and working in the Huntington Booster Club camps and clinics," Ms. Wilson said. "She is consistently a positive role model and seems to always find a way to help others connect. She never compromises or settles for less than the very best. Her work ethic and drive is second to none."
Ms. Biernacki is the type of athlete who doesn't hold anything back on the field. She only knows how to go full speed. "In my 15 years of coaching and 17 years of educating she is one of the most hardworking and committed individuals I have ever come to know," Ms. Wilson said. "Her strengths and gifts are not only in the athletic realm, but in the academic and social domain as well."
The teenager is a unifying force, bridging the gap between the underclassman and the veterans. "Perhaps, what I will remember most about Madison is her character," Mrs. Walsh said. "She is an honest, caring, respectful young woman whom I am proud to have worked with."
"Madison is truly a uniquely wonderful individual who makes each activity, event, program she is involved with better," Ms. Wilson said. "Initiative, outstanding judgment and focused efforts make her a force to be reckoned with in all areas. She is mature and has wonderful insight where she shines and as a result stands out from others her age. It has been an honor to know and work with Madison. She is really an amazing individual."
As the school year winds down, Ms. Biernacki is turning her thoughts toward what awaits next fall at college. She has applied to many competitive schools including the Univ. of Maryland, Penn State, Univ. of Delaware, Marist College, James Madison University, Syracuse Univ., Villanova Univ., Binghamton Univ., Loyola Univ. of Maryland and the Univ. of Massachusetts at Amherst. Penn State has been the teenager's top choice.
"Perhaps what I will remember most about Madison is her character," Mrs. Walsh said. "She is an honest, caring, respectful young woman whom I am proud to have worked with."