Finley Spring Musical is a Hit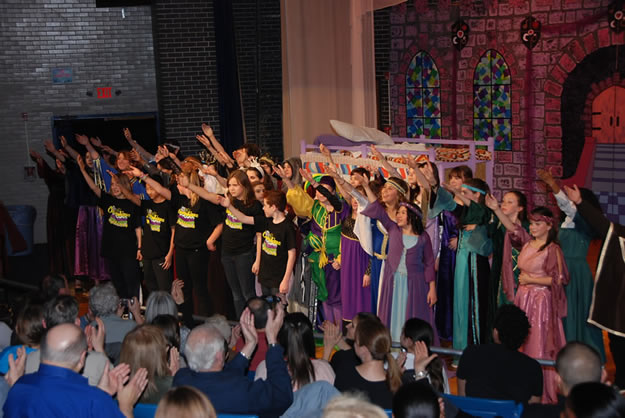 They sang, danced and acted their hearts out and the crowd filling the J. Taylor Finley Middle School auditorium roared its approval of 50 student actors, stage crew, lighting and sound technicians and set designers at last weekend's production of Once Upon a Mattress. The show officially earned "hit" status with folks of all ages.
The musical starred Zoe Neyer, Logan Rice, Nancy Fallon, Billy Garfinkel, Carolanne Buoniello, Justin Waite, Miranda Nykolyn, Andrew Gunthner, Jordan Biener, Bailey Riordan, Molly Warren, Cara Sorrentino, Jack Malone and Camryn Libes.
"It was great," said Superintendent James W. Polansky, who was in the house for Friday's night's show. "It was very well cast with some real talented kids. The music and choreography were outstanding."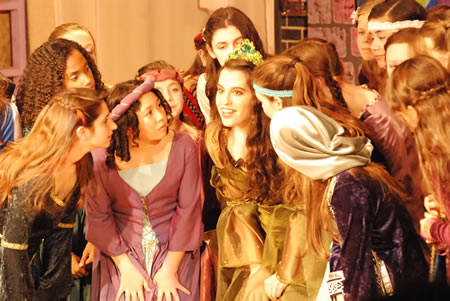 The drama club worked for months on the show as director Pamela Jacovina, assistant director Jessica Castaneda, art director Kim Valerio and lighting and sound director Matt Harris put all the pieces in place for two great evenings of theatre.
The well-paced show featured singing, dancing, humor and drama. An intermission allowed the crowd to stretch its legs, purchase refreshments in the Finley foyer and quickly return to its seats for the final six scenes.
Mr. Garfinkel, who played the role of "The Silent King," used hand motions to communicate during much of the show. It wasn't until the final minutes that his part allowed him to speak. "He should have won a Tony for best supporting actor," Mr. Polansky said.
Katarina DePasquale, Alexandra Haughwout, Celine Palermo, Stephanie Powers, Christiana Reinertsen and Maddie Shea played the part of "ladies in waiting." Amara Ayler, Michelle D'Alessandro, Ann Glackin, Caroline Maggio, Brianne Neira, Hannah Olesen, Gabby Pellechia, Lena Scarpulla, Dianna Schmitt and Kelly Tenbus were "ladies of the kingdom." Benjamin Muratore, Spencer Pashkin and Howard Schiman were "knights of the kingdom."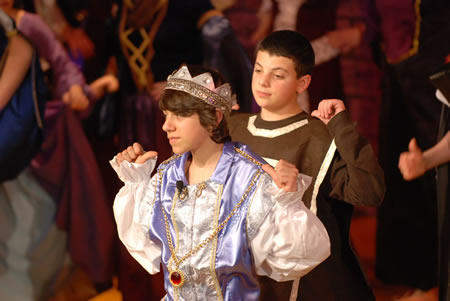 The stage crew consisted of Kayla Anderson, Casey Maxine DeVille, Sean Mello and Steve Yeh. The art crew was composed of Elena Canas, Katy Dara, Katelin Hanke, Claire Hannon, Alex Muller, Landary Rivas, Cloe Stevens and Zaida Ramos. Lighting and sound was handled by Emma Black, Cole Blackburn, Rudi Fasolino, Quinn Hughes, Riley Mello and Brendan Mulroy.
The Finley auditorium was constructed for the purpose of hosting large group instruction, which was a fad during the 1960's. The room was known as the LGI for decades, and is still referred as that by many today. The LGI was, and still is, capable of being divided into three smaller rooms, with two moveable electric partitions on each of the upper wings.
Based on fire laws, the LGI's capacity is 420. The stage is small and low to the ground. But, the Finley drama club has adapted and has been successfully performing in the room for 45 years. It expects to continuing doing so far into the future.