Blue Devil Football Celebrates
at Dinner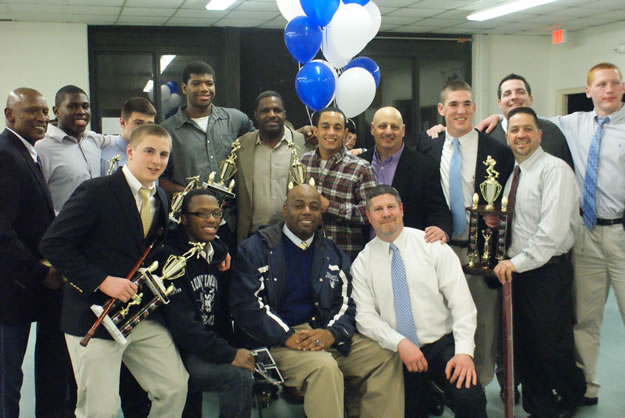 It wasn't a championship season, but the Huntington High School football program threw itself a party just for fun and to honor its top players. A large crowd filled the school cafeteria to near capacity as coaches presented a series of awards.
"It was another outstanding night where we were able to give one last salute to celebrate our athletes' success this past season," said Ron Wilson, who has coached in the program for many years.
Former Blue Devil football coach Steve Henry was on hand to be recognized for his continued service to the program. He films the JV and varsity games each week. The video is later used by the coaching staff and players to improve the team's performance and to prepare for the following week's game.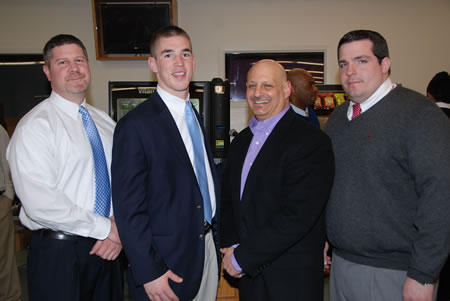 During the dinner, varsity head coach Steve Muller acknowledged each of his players in a special way prior to announcing the recipients of several special awards. "This was an outstanding group of young men," Muller said about his squad. "They gave us everything they had. Who can ask for more?"
Blue Devil quarterback Dan Plant won the varsity Most Valuable Player Award. Tyler Greenhill was named Outstanding Offensive Player. Devon Nelson earned the John Paci Award, presented to the team's top offensive back. Thomas Mulligan (Outstanding Receiver Award) and Shaheem Lewis (Outstanding Offensive Lineman) were also honored.
Jack Forster was named the team's Outstanding Defensive Lineman. Jared Thorbourne picked up the award for Outstanding Defensive Back. Frank Caravetto was honored as the Blue Devils' Outstanding Linebacker. Trayvon Toney was the team's Outstanding Defensive Player.
Brandon Fiordelisi won the prestigious Joe Lucey Award, named for a longtime former coach. The honor is the equivalent of a Coaches Award and the recipient is chosen by the entire coaching staff. Nick Lupi garnered the Christopher Pettit Award. Brandon Campbell was presented with the Steve Henry Award.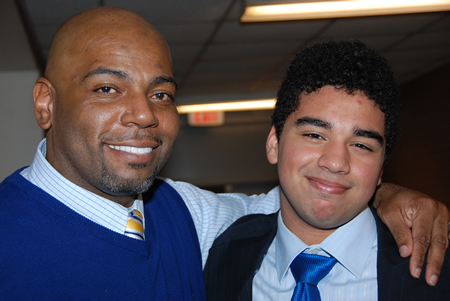 Daniel McQuade (Most Improved Award), Lawrence McGill (Offensive Rookie of the Year) and John Mallouk (Defensive Rookie of the Year) were also honored with special awards.
Junior varsity players Troy Greene (MVP) and Jacob Watkins (Most Improved) were also presented with trophies. Finley eighth grade team MVP Awards went to Exzayvian Crowell and Joseph Puca. Finley seventh grade team players Lawrence Leake (Outstanding Offensive Player) and Sean Paton (Outstanding Defensive Player) were recognized by their respective coaches.
The crowd included Huntington School Board members Emily Rogan and Kim Brown and Superintendent James W. Polansky. Mrs. Rogan's son, Henry is a player in the program.
Parent Christina Plant and an army of team parents were on hand to help serve the players and family members. Long tables jammed with hot trays of food lined the wall along the courtyard. Hungry players strained carrying their loaded plates back to their tables.
"Mrs. Plant did another herculean job this year with coordinating our Friday night dinners, the homecoming weekend dinner and this fabulous awards dinner," Wilson said. Players and coaches applauded parents for their generous gifts of food and refreshments throughout the season.
Director of Facilities Alvin White and his staff of buildings and grounds workers were praised for their efforts on behalf of the football program. Athletic department secretaries Amy Smith and Mary Lou Paxton, trainer Kelly Hatzmann and Mr. Henry were all recognized with awards for their "outstanding dedicated service"
"It was that type of night where a small family of parents, coaches and athletes in Huntington got together and had a party," Wilson said. "It was great! The food was outstanding!"