The Fulton Foundation Marches On
John Fulton was a well-known figure around town. A big-hearted man with a wide circle of friends, the Huntington High School graduate was always ready to help someone in need. He didn't want any credit or recognition for a good deed. He just loved the community, its schools and the people of all ages that call this place home.
Mr. Fulton was a fun-loving man. A member of Huntington's Class of 1973, he owned the Huntington Pennysaver Group for many years. The business allowed him to help others in all sorts of ways, big and small. When he passed away on August 27, 2009 at the all too young age of 55, it shocked and saddened the community, despite his ongoing battle against the scourge of multiple myeloma.
His family and friends entered a period of mourning. They were able to console themselves by recalling cherished memories of a man whose life was filled love and laughter. The family quickly decided to continue Mr. Fulton's charitable way of living by creating the non-profit John F. Fulton Foundation, which has raised money to benefit the Multiple Myeloma Research Foundation.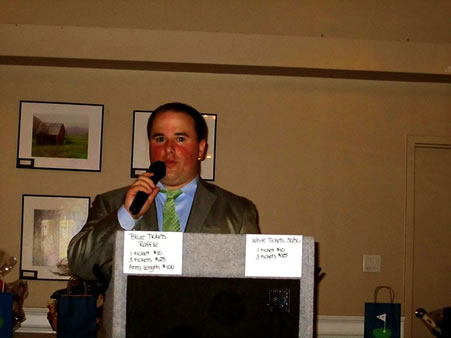 Born in Huntington on December 14, 1953 to Dunlap (Bunky) and Marjorie Fulton, John Frederick Fulton left behind his wife Maureen and four children, Meghan, John Jr., Grace and Alexandra. It's a durable family that has every intention of making the Fulton Foundation a force for good.
Mr. Fulton was a true-blue member of the Huntington School District family. He could be spotted at Huntington High School and Finley Middle School athletic games, school plays, homecoming festivities and PTA sponsored events. He was a proud Blue Devil fan and could rival the loudest cheering fan.
The Fulton Foundation's most recent fundraiser ran into an almost insurmountable obstacle. "Unfortunately, the weather was not in our favor this year," said Alexandra Fulton, a Loyola University Maryland senior. "The amount of rain that occurred on the day of the event prevented us from being able to run the actual golf part of the outing, so we were only able to host the dinner this year."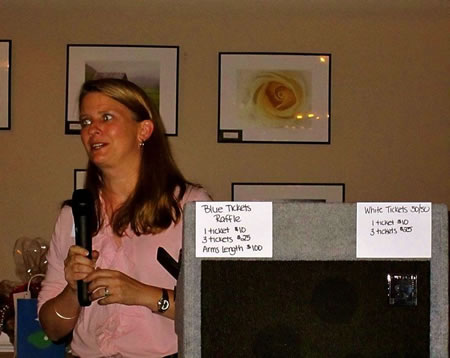 The stormy weather held the expected large crowd down to about 40, "which was sort of a bummer in comparison to the vast amount of people who were able to attend the event last year," Ms. Fulton said. "We had about 20 baskets which included donations from many vendors in town, and we appreciate the support that our community continues to show us."
One of my Ms. Fulton's close friends at Loyola created a painting that was raffled off at the outing. Although small in number, the crowd raised a good amount of money and enjoyed the setting, food and each other's company.
Brooke Roberts of the Multiple Myeloma Research Foundation was on hand to speak about future MMRF cancer research project. Ms. Fulton was able to work with Ms. Roberts last summer. "It was nice to see that the MMRF cares about the smaller events that occur throughout the year," Ms. Fulton said.
The outing carries deep meaning for the Fulton family. "It is always a reminder of the man that my father was in this town and how much people appreciated his fun-loving attitude and his willingness to give back to others," Ms. Fulton said. "This support allowed me to see that even if the weather is not in our favor, people are always going to be there for my family and it is a testament to the man that my father was."
The Fulton Foundation is reviewing its plans for the future. Ms. Fulton is graduating from Loyola this spring and she hopes to dedicate even more time to the foundation and work on some "new and exciting" events, she said. "There are a lot of places in Huntington that I would like to reach out to in order to see if there is potential for a new event like a happy hour or something fun that would allow more of the community to participate in the event since golf is a skill-set sport."
For more information about the Fulton Foundation and how you can help, call John Fulton, Jr. at (631) 897-3947 or send an e-mail to john.f.fultonfoundation@gmail.com.
"I have no doubt in my mind that we will continue to grow as a foundation and continue to support not only the Multiple Myeloma Research Foundation, but the Huntington School District as well," Ms. Fulton said. My father went to Huntington and he believed so much in giving back to the community that allowed him to become so successful. I am very excited to see what the future has in store for the foundation."