Blue Devil Sports News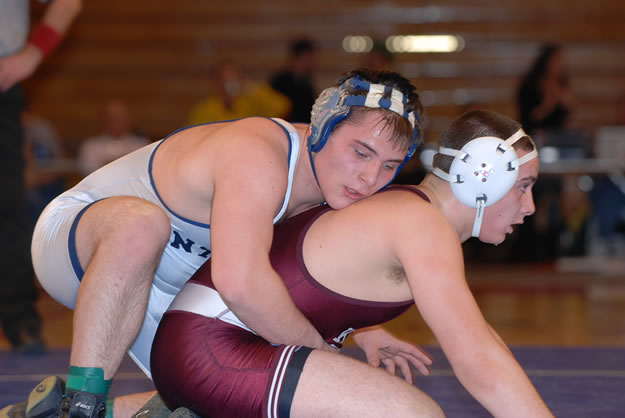 Huntington High School junior Nick Lupi took fifth place at 220 lbs. in the New York State Division I wrestling tournament. The competition was held at the Times Union Center in Albany. It drew a crowd of 13,077 for three sessions over two days.
The record attendance for the state wrestling tournament was set in 2006 when a crowd of 17,755 turned out for the competition when it was held on Long Island at the Nassau Coliseum.
Boys' Varsity Lax Ready to Go
Paul McDermott is back for another season as head coach of the Huntington High School boys' varsity lacrosse team. Eric Triolo will again serve as assistant coach. McDermott is an elementary school teacher in Half Hollow Hills. He played lacrosse for the Blue Devils. Triolo is a physical education at Woodhull Intermediate School. He played lacrosse for Walt Whitman High School.
Baseball Looks Ahead
The Huntington High School varsity baseball team hasn't won the league championship since 1965. The program has a new staff in place for this season. Keith Barrett is the head coach. He's being assisted by Alan Anderson. Keith Flynn is the junior varsity coach. The Blue Devils hope to produce a winning record.
Fudens Takes Over
Jennifer Fudens is the new head coach of the Huntington High School girls' varsity track and field team. She took over from longtime coach Debra Cheskes, who helped revitalize the program over the past decade. Fudens will be assisted by Kevin Thorbourne, a Huntington graduate and former Blue Devil athlete.
Cheskes also coaches Huntington's girls' cross country team in the fall and the girls' winter track and field team. She said coaching in each of the three sport seasons was grueling and so she stepped away from the spring campaign.
Blue Devil Boys' Appear Strong
Ron Wilson appears to have a strong team this spring. Wilson is the head coach of Huntington's boys' varsity spring track and field team. He will be assisted by Eli Acosta. The Blue Devils have a well-balanced team with talented sprinters and mid and long distance runners and skilled field performers. The squad seems to have all the ingredients for a successful season.
March Madness
A crowd of about 60 parents and coaches turned out for the Huntington Booster Club's March Madness reception at Christopher's Courtyard Café in Huntington village. Funds generated by the event will be plowed back into the Blue Devil athletic program.
To get involved with the Booster Club contact President Barbara Cutrone at (631) 549-9156 or hizees@aol.com.
European Handball Tournament
Huntington High School's Class of 2013 is sponsoring a European handball tournament in Louis D. Giani Gymnasium on Thursday, March 22. Teams of eight Huntington High School students can register for a fee of $40. Contact class advisor Lauren Desiderio at ldesiderio@hufsd.edu for more information.