HFEE Donates Funds for Steam Irons
The Huntington High School fashion program had a need and the Huntington Foundation was only too happy to ride to the rescue, awarding a $180 mini-grant to fund the purchase of two new steam irons.
"Pin, baste, sew and press is my fashion design and illustration class mantra," wrote teacher Amy Worth in a mini-grant application she sent to the Huntington Foundation for Excellence in Education. "These four steps, carefully executed, produce professional quality work. My classroom feels like a factory workroom at times, with all 12 sewing machines buzzing. But, the whirring turns to whining when it's time for students to turn on the iron and press their work."
Ms. Worth told the Huntington Foundation that the fashion program had gone from four working irons to just two. "These two were meant for light home use and so a line forms when all the students are sewing and need to press open a seam," the teacher wrote.
Huntington's fashion program is very popular with students. Many of its alums are now in prestigious college programs while others have already graduated from college and are working in the fashion industry.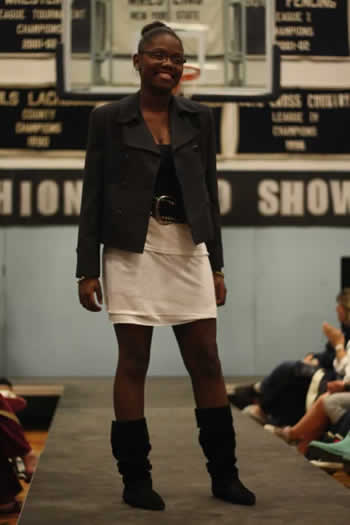 "Fashion I students are required to work with cotton or linen for their first projects, as these are generally easy to cut, sew and press," Ms. Worth wrote in her application. "But, Fashion II and III students challenge themselves by working with specialty and novelty fabrics that require extra attention and care."
The Huntington Foundation grant will provide the funds necessary for the purchase of two Rowenta DX8906 professional irons. According to Ms. Worth, the unit "is made to handle a wide range of fabrics requiring accurate temperature settings and steam capabilities. All three levels of fashion classes will benefit from an iron with a good steam system."
Ms. Worth said last year a student burned a hole in a "beautiful" chiffon skirt "with an iron she'd set correctly but heated too high. With a better quality iron, students will be able to work successfully with the diverse range of fibers and fabrics that are available in stores and generously donated to our program."