Students Earn Washington Ways Recognition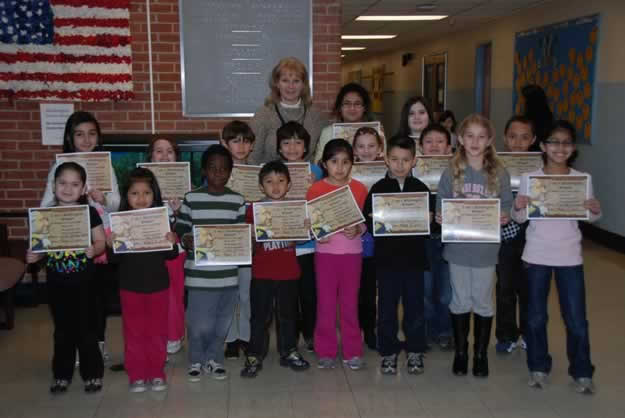 Washington Primary School's top students in February were cheered by classmates as they filed down to the main lobby to receive special certificates and congratulations from Principal Marsha Neville.
The honorees included Cruz Flores-Andrade, Milo Alfridi, Sonia Acevedo-Ortiz, Allison Hernandez-Romerom, Destin McGee, Katie Nunez, Linsey Mendez, Mackenzie Ahern, Gianna Petrone, Jeffrey Hernandez, Jonathan Martinez, Isabella Busa, Spencer Login, Isabella DiBenedetto, Alex Gonzalez, Gracie Renkewitz, Daniel Williamson, Anna Carson, Diya Rai-Gersappe and Hannah Avidor.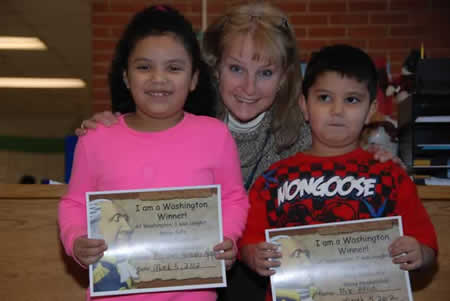 The class of teachers Debbie Quiles and Kristin Thatcher were also cited for their exceptional group performances. The individual award winners were assembled with Mrs. Neville for a photo that will be posted on a bulletin board in one of the school's hallways.
February's honorees were recognized as part of the school's Washington Ways program. It's an initiative that focuses on highlights and rewarding positive behavior while encouraging students to be safe, respectful and responsible.
Students are given various colored tickets by teachers and support staff members for exemplary behavior. The tickets can be presented to the youngsters throughout the day.
White tickets are awarded weekly for good behaviors and actions in the classroom. White ticket winners are honored with special recognition in their classroom at the end of each week and their names are announced every Monday morning.
Red tickets are presented to individuals for notable good behavior outside of classrooms, including in hallways, buses, the playground and cafeteria, etc. At the end of the month, the student in each class with the greatest number of red tickets is recognized with a special certificate.
Entire classes can earn blue tickets for positive group behavior out-of-the-classroom. Blue tickets are also awarded to the two classes within the building with the most tickets overall.
"It was a lot of fun to recognize all of these wonderful students," Mrs. Neville said about February's honorees.