Booster Club Sponsoring Summer Girls' Lax Camp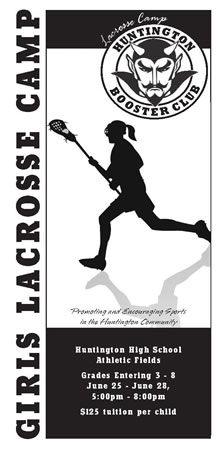 The Huntington Booster Club is sponsoring a summer girls' lacrosse camp at Huntington High School for students entering grades 3-8. The session will run from June 25-28 from 5-8 p.m. each day. Tuition is $125 for each participant.
The camp will offer a program for those ranging from beginners to players entering the junior varsity level. Participants will be taught solid fundamentals and techniques and develop the skills necessary for success.
Huntington varsity head coach Nancy Wilson will serve as program director. She earned a BA degree at Arcadia University and was a four-year lacrosse player there, winning the Pennsylvania Athletic Conference Defender of the Year Award as a college junior. Ms. Wilson is an accomplished scholastic coach. Prior to taking over the Blue Devil program, she led Harborfields to several Suffolk crowns.
In case of rain, the camp will move indoors to the high school gym. Participants are required to bring goggles, a mouthpiece and a lacrosse stick each day. The camp will focus on both technical and tactical training and serve as an opportunity for new and current players to improve their game. Certified coaches will instruct participants. Each camper will receive a t-shirt.
"Ms. Wilson has always maintained a core focus of developing an athlete's individual skills while fostering the critical understanding of teamwork and sound game awareness," according to the camp brochure. "Character, integrity, focused determination and resiliency is stressed through daily practice and competition."
For a copy of the camp brochure, log onto the Huntington School District's website at www.hufsd.edu. Click on the School Community link and then the Booster Club tab on the left side of the screen and then select Forms & Files or click on the Athletics link and then on Summer Programs. Any camp balance is due by June 25.