Booster Club to Offer Summer Boys' Lax Camp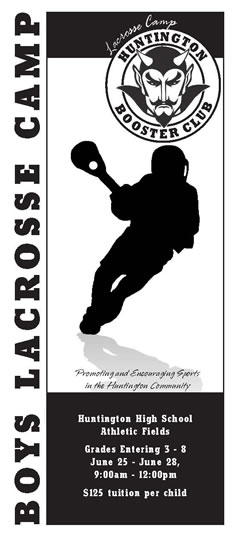 The Huntington Booster Club is sponsoring a summer boys' lacrosse camp at Huntington High School for students entering grades 3-8. The camp will run from June 25-28 from 9 a.m. to 12 noon on the athletic field.
Huntington varsity lacrosse coaches Paul McDermott and Eric Triolo will direct the camp. The registration fee is $125. Participants will receive a t-shirt.
All aspects of lacrosse will be covered, including scooping, dodging, strong and weak hand drills, passing, fast breaks, shooting techniques, footwork, clearing, positioning, pick and rolls and stick protection. An instructional game will also be held each day.
The goal of the camp "is to improve individual skill level and develop a fundamental understanding of basic lacrosse," according to the camp brochure. Camp sessions will begin with stretching and agility drills, along with line drills and four corner passing. Participants will rotate through various skill stations before scrimmaging with one another. In case of inclement weather, the camp will be held in the high school gym.
Participants need to bring a helmet, mouthpiece, shoulder and arm pads, a glove and a stick each day. Players should also bring a snack and drink.
For a copy of the camp brochure, log onto the Huntington School District's website at www.hufsd.edu. Click on the School Community link, then the Booster Club tab on the left side of the screen and then select Forms & Files or click on the Athletics link and then on Summer Programs. Any camp balance must be paid by June 25.