Music Idol is Back at Huntington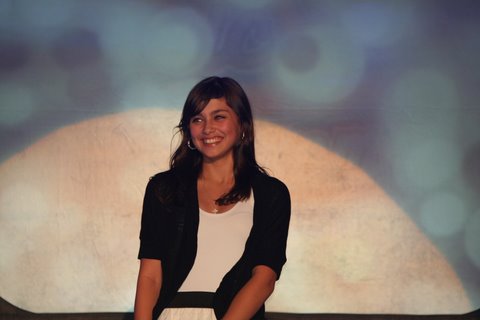 Huntington's unique version of the popular television show American Idol is prepping for its fourth edition with a field of 43 semi-finalists who are fine-tuning their performances for the looming showdown.
The Huntington Idol semi-finals are slated for Friday, March 16 in the Huntington High School auditorium. Doors open at 6:30 p.m. The competition will begin at 7 p.m. Tickets are available at the door for $10 beginning at 6:15 p.m. The public is invited to attend. Organizers are encouraging folks to come early so they don't have to wait on line.
Huntington High School orchestra director Lisa Leonardi is once again coordinating the event. Nearly 100 students auditioned for this year's competition. "There were so many great singers, the judges had to pick more than the usual 40 semi-finalists," Ms. Leonardi said.
Advancing to the semi-final round of the high school division were students Wilmarie Aviles, Samar Nadi, Honor Corbly, Amanda Yeh, Rebecca Alligood, Josh Stickell, Ashley Rice, Anna Schiffmacher, Brianne Bennett, Sarah Mosden, Hailey Giordano, Taivon LaPalmer, Elizabeth Roman, Julia Zinn, Kristen Berner, Giselle Aparicio, Olivia Liepa, Junior Balogun, Erin Lasorsa, Anastacia Lodge, Katherine Gerdes.
The ranks of Finley semi-finalists includes Sarah James, Justin Waite, Lena Scarpulla, Yardalie Daniel, Camryn Libes, Emma Pipolo, Michaela Carnesi, Amber Zulijani, Stephanie Powers, Ann Glackin, Alexandra Berwick, Cassandra Berwick, Ryan Sansiviero, Paige Montecalvo, Ifedayo Balogun, Maddie Shea, Melanie Lanham-Ciancia, Nancy Fallon, Brianne Neira, Annalise Mozer, Bailey Riordan and Zoe Neyer.
The event will again be produced by Music Idol Entertainment. Ms. Leonardi said the company puts on a "world class version of Huntington Idol, with state of the art video, light and sound." There will be free giveaways from sponsors Atlantis Marine World, Cactus Salon and WBLI.
Last year's semi-final and championship rounds were very exciting. The high school division was won by Stephanie Shea and Finley student Kaiya Idler captured the middle school category. Declan Byrne was named "best entertainer."
Hundreds of fans attended last year's semi-final and final round shows. An even bigger crowd is expected this year. One of the highlights will be watching talented faculty members perform.
"It's going to be a fun evening," Huntington Superintendent James W. Polansky said.