Woodhull 6th Grade Band Performs at Islanders' Game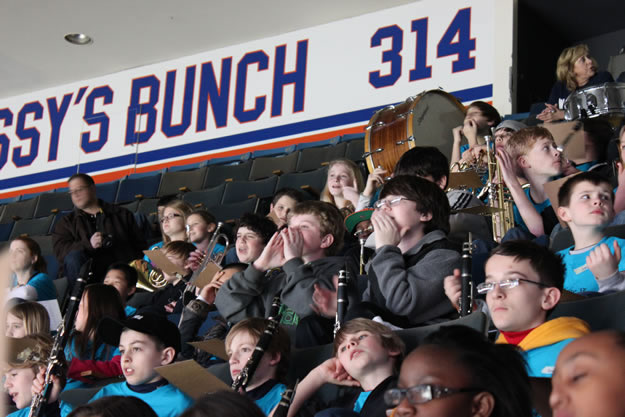 It's something that these Woodhull Intermediate School sixth grade band members will probably always remember. The group performed at New York Islanders game at the Nassau Coliseum before a crowd of nearly 12,000.
The band, accompanied by family members and school officials, arrived at the Coliseum for a sound check with the arena's production staff several hours before the puck dropped. "The students have been preparing for the event since early fall and all of their efforts definitely paid-off," Woodhull music teacher and band director Chelsea Jablon said.
Once the sound check was complete, Islanders' staff members asked Ms. Jablon, "Are you sure these aren't high school kids?" They were that impressive. "The students' respectful behavior was noticed and complimented by all in attendance," Ms. Jablon said. "While they were super excited, students remained calm and listened wonderfully to directions from all of the chaperones and personnel at the arena over the course of about five hours."
When it was time for the band to perform "God Bless America," the eight row section of band members was surrounded by hundreds of supportive family members, friends, live television cameras, bright lights, microphones and school officials, including Woodhull Principal Mary Stokkers, district Superintendent James W. Polansky and Huntington High School dean Paul Caleca.
"The band executed a top notch performance," said Ms. Jablon, who called the experience an "amazing opportunity" for her students. The Islanders topped the Carolina Hurricanes, 4-3 to make the evening even sweeter.
"The Woodhull family is so proud of the courage and determination our band students displayed playing in front of thousands of people," Mr. Stein said.
It was a night sure to produce fond memories well into the future. The Woodhull youngsters assisted one another with instrument and music set-up. Many school staff members volunteered to chaperone. The school group totaled 87 in all.
"Ms. Jablon did a fantastic job of developing, organizing and directing this exciting performance opportunity for the sixth grade band," said Joan R. Fretz, district director of fine and performing arts. "Having an opportunity of this type really motivated the students to practice and take pride in their work. Elementary bands are seldom invited to perform at major sporting events, however, the Islanders administration was very impressed with the audition tape we submitted last year."