Jeffrey Sun Generates Excitement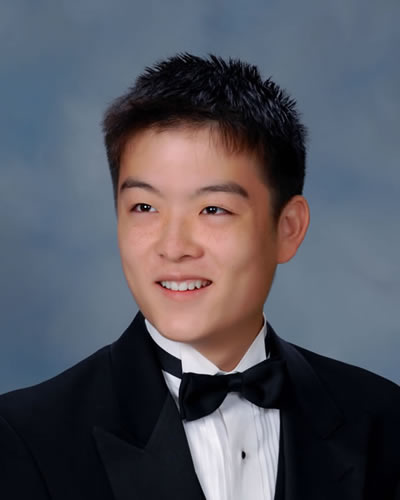 In many ways Jeffrey Sun is an ordinary teenager and in others he is anything but that. The Huntington High School senior is the type of guy who makes others excited to learn along with him. He's a scholar, musician, scientist, athlete and valued friend, to name just a few of his many hats.
Teachers have noted Mr. Sun's "generous, modest nature," said Bernadette Walsh, the high school's college counselor. She calls him an "effervescent student" and can't say enough about him.
"Jeff is truly a unique student who has effortlessly blended his academic passion with personal integrity to yield a young man with a positive attitude and good-willed nature," Mrs. Walsh said. "He is always willing to aid a friend or faculty member in need and it is his trustworthiness and reliability that truly make Jeff not only a brilliant student, but also a genuine human being."
Mr. Sun has many interests, including medicine, engineering and business, to name just a few. He's destined for a top tier college and there's no telling what he might accomplish in life. The sky seems to be the limit.
"Three years ago, there was a buzz in the guidance department," Mrs. Walsh recalled. "A new student was transferring into Huntington High School. A genius they said. He had completed his sequence of study at the Long Island School for the Gifted and would be coming to us as a tenth grader. However, his sophomore schedule was at least one year ahead of his cohort, including three AP courses, Calculus AB, US History, and Biology and several honors courses."
Although it took some time to happen, Mrs. Walsh was excited to meet the teenager. "The moment I finally met the elusive Jeffrey Sun, my preconceived notions flew out the window, for standing before me was a typical teenager whose greatest passions, besides playing his violin, include video games, tennis and cooking," she said.
Mr. Sun's transcript is a thing of beauty. He's completed a long list of challenging courses across the academic spectrum. This year he also can be found on Stony Brook University's campus as a participant in the Young Scholars program there. "He is taking the Local and Global: National Boundaries and World-Systems course, which provides an 'Introduction to the contemporary capitalist world-system as a complex network of unequal power relationships and its inextricable role in our daily lives,'" Mrs. Walsh said. "Jeff continues to impress me with his thirst for knowledge and unassuming, humble nature. His high school career has been extremely rewarding."
A participant in the Manhattan School of Music's pre-college program for nine consecutive years, Mr. Sun speaks Mandarin and has a tight circle of friends.
The teenager is always "up" for a new adventure. He participated in the DNA camp at the Cold Spring Harbor Dolan DNA Learning Center for several summers. The experience broadened his horizons and expanded his base of knowledge.
One year a group of scholars from Sun Yet Sen University of China toured the CSH facility when Mr. Sun and his group were preparing for the final presentation of their lab results. "Jeff overheard the conversations among the scholars in Mandarin and they were struggling to understand what the DNA staff was explaining and so he volunteered to explain what was offered the center and clarified some questions in Mandarin," Mrs. Walsh said.
Huntington High School has been enriched by Mr. Sun's presence and teachers say his graduation will leave a void. He's held in high esteem by the entire school community.
"Jeff is an exceptional young man who has all the attributes to be a successful member of a competitive collegiate community," Mrs. Walsh said. "The strong peer pressure experienced by today's teenagers can be painful, but Jeff is a unique teenager. He is comfortable in his own skin and has the ability to make good decisions regardless of what his peers might be doing. His ambition, intelligence and sensitivity to others, combined with his good moral compass make him one of the most respected students in this high school. We will miss Jeff."