Engeman Theater Donates to
OOMPAH for AIE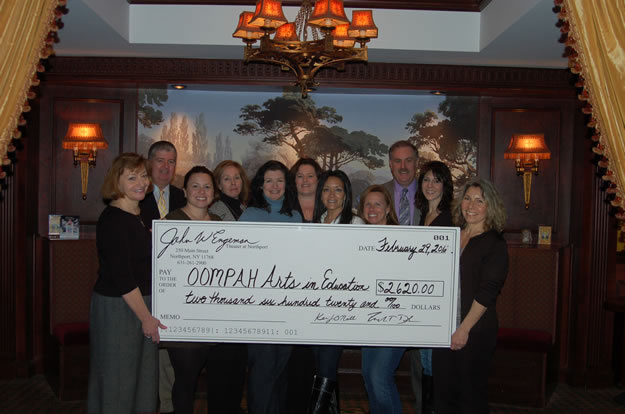 In these days of budget constraints, the John W. Engman Theater's donation of $2,620 to the Huntington School District's OOMPAH for AIE Committee couldn't have come at a better time.
Huntington's Organization of Music Parents of Huntington and the Arts-in-Education Committee have tirelessly worked on behalf of the district, its students and programs. The group partnered with the Engeman Theater at Northport on a fundraiser that provided the AIE program with a portion tickets sales generated through the use of a special code exclusive to supporters of the Huntington organization. The donation will be used to provide supplementary arts programming at all grade levels.
AIE parent volunteers commemorated the fundraising partnership last week at the theater, which is located on Main Street in Northport, east of the US Post Office. A check presentation ceremony was held in the theater lobby. The check represents proceeds from tickets sales generated during the holiday production of "It's a Wonderful Life."
"The Arts-in-Education Committee really enjoys collaborating with the Engeman Theater as members of their 'community give-back program,'" said Joan R. Fretz, district director of fine and performing arts. "It's a fundraising system that requires minimal time and provides benefits to our school program, as well as our community members. Everyone is enjoying the professional shows at a discounted price."
Turning out for the check presentation ceremony at the theater were Huntington AIE parent volunteers Marybeth Basso, Peggy Low, Lisa Karasik, Susan Bucholtz, Nancy DiGiacomo, Lauren Brown and Nina Fleisig, president of OOMPAH for AIE. The group was joined by Ms. Fretz, Kevin J. O'Neil, executive producer and owner of the John W. Engeman Theater at Northport, Christine Golub, the theater's group sales and events manager and Marty Rubin, director of sales for the Engeman Theater.
Those utilizing AIE's special code to purchase tickets get $5 off the ticket price. The Engeman Theater donates $10 from each ticket sold to OOMPAH for AIE. "We hope more Huntington families will take time to use our discount code (HAIE) and enjoy participating in the arts while supporting the arts in our schools," Ms. Fretz said.
Supporters of Huntington's arts-in-education program hope theater lovers will continue to use the special AIE discount code. Tickets can be ordered at the box office or by calling 261-2900 or online by visiting www.johnengemantheater.com.
Use the discount code of "HAIE" and save $5 per ticket while the AIE program receives $10 per ticket from the Engeman Theater for AIE programs in the district. Show tickets are regularly priced at $60 but will be discounted to $55 for those providing the code, which can be used for any performance at the Engeman Theater except those on Friday and Saturday nights.
Huntington's AIE committee presents programs designed to enhance the study of literature, humanities, mathematics, science, fine and performing arts, health and character education. Students are provided with opportunities to visit and learn about the unique historical sites throughout Huntington. There is a special emphasis on providing programs for single grade levels that connect with specific curriculum objectives.
The AIE committee researches and plans cultural arts and exploratory programs linked directly to core curriculum for every grade level. In recent years students have participated in a wide range of experiences from seeing their own pieces of creative writing performed by professional actors and chatting with famous authors to working with real scientists and "meeting" characters from American history.