Greenkill Trek Tradition Continues
A 35 year tradition of Huntington School District sixth graders trekking to the Greenkill Environmental Education Center in Upstate Huguenot will continue this spring as more than 270 Woodhull Intermediate School students are expected to make the journey.
Huntington School Board members approved the district's participation in the trip during a February meeting of trustees. Students will participate in a series of informative and unique lessons, hike and experience a variety of outdoor activities and adventures.
A group of 130 students and ten adult chaperones will go to the camp from March 20-23 and a second group of 142 students and ten adult chaperones will be at Camp Greenkill from March 27-30.
The 1,000 acre site, which is located about ten miles from Port Jervis, is owned and operated by the YMCA of Greater New York. The three-hour bus ride to the camp is usually filled with anticipation and a sense of excitement.
The trip is being coordinated by teachers Allison Von Vange and Keith Meyers. Once on site, the youngsters will be assembled in groups and hike through wooded areas with a trained naturalist, study pond and forest ecology, learn about orienteering and survival skills and related outdoor themes.An all-day hike is always popular with the students, who traditionally cook hot dogs and hamburgers over a camp fire.
Jack Abrams, a retired principal discovered Camp Greenkill for the Huntington School District in 1976. Mr. Abrams was working as principal of Jefferson Elementary School at the time. One of his colleagues, Anthony Baressi, who later served as Jefferson principal, helped organize Huntington's participation in the camp program. Since then the district has sent more than 8,000 sixth graders to Camp Greenkill.
The camp staff is accommodating and operates a structured program that runs smoothly. The grounds have been virtually untouched through the years, enhancing the experience for participants. Once again, the Huntington Foundation is providing financial assistance for families needing it to send a son or daughter on the trip.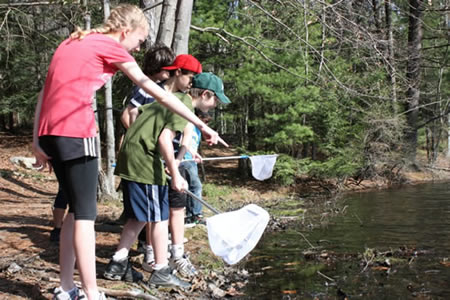 Students have cited the all-day hike, cookout along the way and the waterfall and fossil ridge as among the most popular aspects of the trip. Mr. Meyers and Ms. Von Vange both participated in the Camp Greenkill trip when they were Huntington sixth graders. They returned as chaperones when they joined the district's faculty and have been trip coordinators for the past 15 years.
In addition to learning more about pond, stream and field ecology and how one part of nature is dependent on another, students will also study topics that include how animals adapt to their environment, survival skills, orienteering and working as a member of a team.