Matt Petryk Takes the Initiative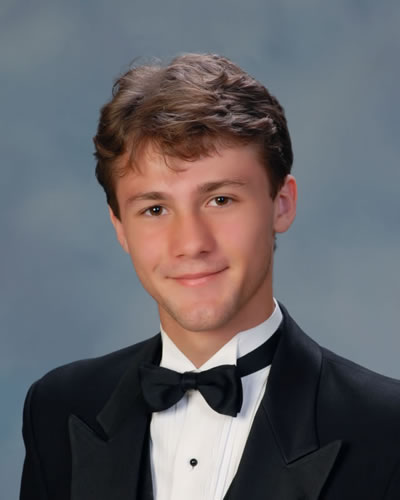 He's a unique student that possesses strong critical thinking skills and thrives on intellectual stimulation. Huntington High School senior Matt Petryk is one of the leaders of the Class of 2012 and is a person not afraid to take risks and make mistakes on the road to excellence in every aspect of his life.
The teenager is fluent in English and Polish and boasts a grade point average and test scores in the stratosphere. Mr. Petryk is motivated by his own academic and personal interests rather than competition or awards.
"A strong contributor in the classroom, Matt's teachers have commented that is it often through his initiative that others feel comfortable asking questions in class and participating," Mrs. Walsh said. "Matt encourages his peers via his supportive character and authentic academic work ethic. One senior even commented to me that one of his most memorable experiences as a high school student has been sharing classes with Matt Petryk!"
Over the past four years, Mr. Petryk has built strong relationships with his teachers, carefully considering their suggestions and feedback. He's always looking to increase his base of knowledge and refine his approach, demonstrating an "old-fashioned work ethic of focused study," Mrs. Walsh said.
Mr. Petryk didn't need any prodding as a sophomore to study the pre-calculus BC curriculum entirely on his own. "His hard work paid off and the next year, Matt enrolled and successfully completed the course," Mrs. Walsh said. "Although he was the only junior in the course, he could often be found assisting his fellow BC students with difficult concepts. He has the ability to make concepts understandable and the patience that allows others to learn completely."
The senior has many interests outside the classroom, too. He's been captain of Huntington's Science Bowl team, is a member of a variety of honor societies and is a cellist in the school orchestra.
Mr. Petryk regularly spends hours refining his cello playing skills. He's a member of the chamber and pit orchestras and can be found many afternoons in the high school auditorium playing with one of the ensembles. He is quite an accomplished musician and has entertained folks of all ages.
Mrs. Walsh described the teenager as "humble, full of life, non-judgmental, wholesome and intelligent." The counselor said she has enjoyed working with Mr. Petryk as his college counselor.
"It is through our conversations and his demonstrated record of excellence that I feel confident that Matt will be a valuable member of any college's Class of 2016," Mrs. Walsh said. "We will miss Matt at Huntington High School."