March Madness is this Sunday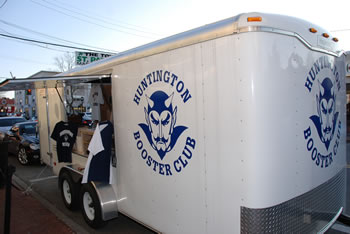 The Huntington Booster Club's March Madness reception will be held this Sunday, March 4 between 2-5 p.m. at Christopher's Courtyard Café, located at 8 Wall Street in Huntington Village.
Tickets will be available at the door for $60. No one under 21 years of age will be admitted. Proceeds from the event will be used to provide financial support for annual scholarships and awards, purchase of equipment and supplies not covered by regular budget appropriations, summer sports camp programs and grants for individual sport programs. In recent years, the Booster Club has donated more than $165,000 to support Blue Devil sports.
The reception will include unlimited refreshments and food. Blue Devil supporters can stop by at any time during the afternoon, stay for the full three hours or any portion of it. Tee shirts will be on sale for $10. The Booster Club's distinctive blue-and-white trailer will be parked outside of Christopher's selling a variety of Blue Devil apparel and gear.
For more information contact Booster Club President Barbara Cutrone at (631) 549-9156 or hizees@aol.com.