Kaja Coraor is the Ultimate
Team Player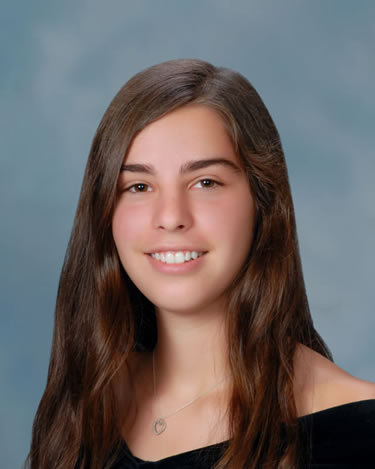 She's the ultimate team player. Kaja Coraor is ambitious and friendly and in many ways, unique. She's a confident teenager, comfortable in her own skin, mature beyond her years and self-motivated. She's a great friend to have.
"Kaya (pronounced Ky-ah) has been a natural leader of the Huntington High School community," said Bernadette Walsh, the high school's college advisor. "She will add much flavor and charisma to any college community."
Ms. Coraor transferred to Huntington High School from the Long Island School for the Gifted, where she completed her sophomore year courses as a freshman. "Thus, she was a year ahead of her peers when she entered our school," Ms. Walsh said. "Because of her academic success, she has often been moved up even further to join honors and Advanced Placement classes, working with much older students."
Huntington's teachers have been impressed with the teenager's maturity and penchant for fully participating in each of her classes. Ms. Coraor is always thirsting for a new academic challenge. She's also ready at a moment's notice to help out a classmate who needs a hand.
"During her junior year Kaja enrolled in a statistics course at Stony Brook University via the Young Scholars program, while simultaneously being enrolled in three AP courses and the science research program at Huntington High School," Mrs. Walsh said.
"Kaya continues to impress me with her tenacity and drive," Ms. Walsh said. "She is one of those people for whom ideas live. Something she picks up in one place, whether in class, in her own reading, or in conversation she will often find relevant in an entirely different context.
An avid reader, the senior's favorite short story helped spur her career plans. Author Paco Underhill's "Shop Like a Man" piqued her interest in marketing strategy and analysis and helped instill a desire to pursue a college degree in a business related field.
"Kaja was excited to transfer into the diverse student population at Huntington and set significant goals for herself," Mrs. Walsh said. "She vowed to make friends, continue to challenge herself academically and become immersed in the student culture."
Ms. Coraor has realized all of her goals and branched out into the community, too. She became involved with Project Excel, which helps youth "excel in school, home, in the workplace, in the community through the arts, community service, tutoring, college prep, job help and training," according to the organization's website.
A two-time national champion in whitewater canoe and kayak slalom for her age group, Ms. Coraor thrives on a challenge. "Kaja really is a refreshing breath of air in the unsettling world in which we live," Ms. Walsh said. "She is a young lady with strong social responsibilities and a fervent sense of self. She is an exceptional young woman with an ample reserve of expertise in a variety of areas. Always willing to lend a hand, Kaja has been an integral member of our community."
The teenager has not yet decided where she will attend college, but has a number of top-tier schools on her list. Ms. Walsh and Huntington's teachers feel any university would be fortunate to have Ms. Coraor on its campus.