Michael Lambui Looks Forward
to Philly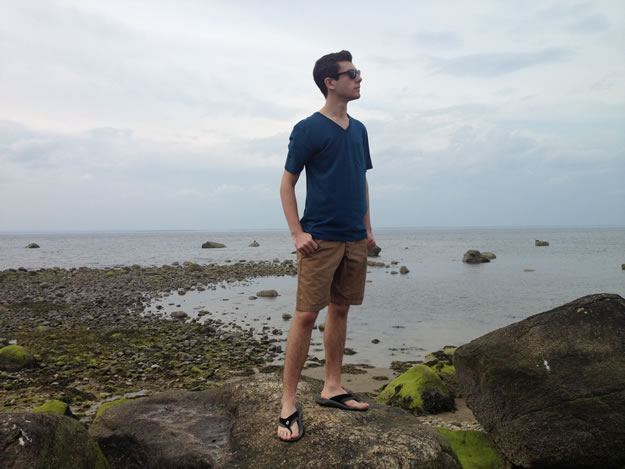 Michael Lambui is glad he moved to the North Shore of Long Island from Lindenhurst when he was just a baby. The Huntington High School senior has thrived here over the years, especially shining as one of the most hard working and knowledgeable members of the stage crew.
The Huntington teenager is headed to University of the Arts in Philadelphia. "At UArts I will study theater design and technology, which is basically lights, sound, set and costumes," Mr. Lambui said. "I applied to six colleges, but choose UArts because when I visited Philly, I really preferred the more urban city life over a fixed campus."
Mr. Lambui cites his participation with the stage crew as one of the highlights of his high school years. "I started with the stage crew and realized that this is what I love to do," he said. Another highlight came when he worked on the drama club production of The Skin of Our Teeth, "because that was the first time that I got to work the lights by myself," the teenager said.
Still more highlights of high school include Mr. Lambui being the stage crew club president and serving as historian of the Gay/Straight Alliance. He even started a Relay For Life team and personally raised more than $700 for the cause.
"Throughout high school I always did poorly in math, but for Algebra 2 Trig, Mrs. [Lynn] Hendricks really helped me grasp and understand every topic she taught," Mr. Lambui said about his favorite math teacher. "If I didn't understand something she always would keep explaining it until I got it."
The senior said he has always found Earth Science "fascinating" and he credits a special teacher for that being the case. "In tenth grade, I had Mr. [Craig] McKee, who would always have a model or a demonstration to help the class understand the lesson," Mr. Lambui said.
It's not surprising that English teacher and drama club advisor Michael Swendemann is one more favorite, considering Mr. Lambui's involvement with the stage crew and the plays and musicals that have been performed over the years.
"Another class that I loved was Theater Arts with Mr. Schwendemann," Mr. Lambui said. "The class wasn't always cooperative, since some students just took it because they thought it would be an easy elective, but I still thoroughly enjoyed it because we got to go see The Fantasticks on Broadway. We were also able to put on a little children's play and we got to read several plays and decipher their true meanings."
Following Friday's commencement exercises Mr. Lambui plans to enjoy a few days off before embarking with a handful of classmates on a trip that will run from June 30 to July 12 to Australia, New Zealand and Hawaii with Education First Tours. Huntington social studies teacher Camille Tedeschi will also be on the trip. The group will meet up with students and teachers from other states along the way.
"After my trip I'll have couple weeks of just going to the beach and going on my boat before I have to move in for college, which is on August 23," Mr. Lambui said. "I'd also like to find a job so I can have some spending money, not only for the summer, but also for when I go off to Philly."
It's a little hard to believe the years have passed by so quickly, but Mr. Lambui seems content with his high school experience and excited about what the future holds in store for him. He's learned a lot and was willing to share some of it when asked.
"My advice for a freshmen next year is to join as many clubs as possible because, as I look back, I feel that being in only two clubs (stage crew and gay/ straight alliance) was not enough for my college resume," Mr. Lambui said. "Being in clubs helps you make more friends and brings you closer with some of the staff that runs the clubs."