Stafford and Reiver Lead Huntington JV Baseball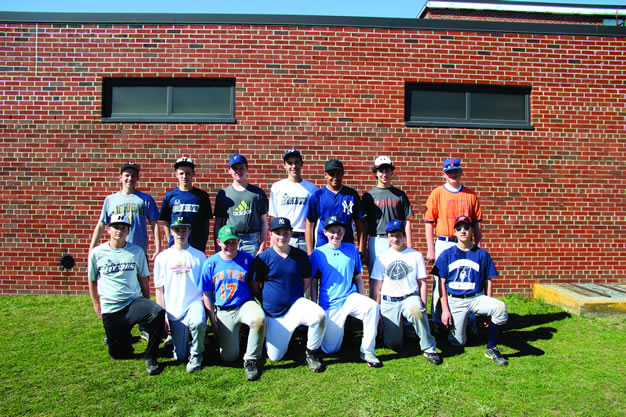 Sophomores Michael Stafford and Lee Reiver were bright spots in an otherwise very tough year for the Huntington High School junior varsity baseball team. The Blue Devils finished the season with a 1-11 mark in league play and went 3-15 overall.
Coached by Keith Flynn, the squad was captained by Reiver, Nick Sherman, Jake Ryan and Matthew Weinschreider. "Even though we had a difficult season, the JV baseball team never quite," Flynn said. "We scored more than 50 percent of our runs after the fifth inning. They played hard and even though we didn't have the same talent as other teams, our resiliency was what set us apart."
Stafford shined as the Blue Devil third basemen, batting .386 with a .462 on base percentage. He swatted three doubles and a triple. Reiver, the team's shortstop, batted .328 with a .375 OBP, 20 hits, a homerun, 20 stolen bases and 17 runs scored.
"Michael is a hard working player who constantly wants to get better," Flynn said about Stafford. "His determination and work ethic contributed to his success this year."
Reiver was a legitimate standout for Huntington. "Lee was a sparkplug for the JV team," Flynn said. "He is a competitor who was willing to do whatever it took to give the team an opportunity to win. His athleticism was a true asset to the team."
The season included two games that were especially memorable. The first came against Deer Park. The Blue Devils led the entire game before surrendering 11 runs in the top of the seventh inning. Huntington then rallied for seven runs in the bottom of the seventh to nip the Falcons, 20-19.
The last contest on the schedule against Bellport "was the game we were waiting for all season," Flynn said. "We had a 2-0 lead going into the fifth inning and were able to execute situational baseball to win 10-0." Weinschreider tossed a one-hitter and the Blue Devil offense and defense both finally clicked.
At this point, next year's team is up in the air. "It's hard to project who will be on JV because it depends on the needs of the varsity program," Flynn said. "We hope to have a good turnout for tryouts and continue to grow as a program."
Blue Devil Extra Bases: Sophomore Ryan Iwanicki led the team in walks with 11 and was second in runs scored with nine . . . Weinschreider and Ryan were the top Blue Devil pitchers, tying for a team high 19 strikeouts . . . Weinschreider's 4.42 earned run average was the best of any Huntington pitcher . . . A total of 17 players completed the season . . . Sherman collected 14 hits and scored eight runs . . . Weinschreider belted out 13 hits and batted .254.