Martinolich and Rosenbauer Win Quentin Sammis Scholarships
Quentin Byron Sammis is one of Huntington High School's most illustrious graduates, so winning a scholarship created in his honor by the Kiwanis Club of Huntington is an especially noteworthy achievement for Class of 2012 members Michelle Rosenbauer and Alexandra Martinolich.
Mr. Sammis was a member of Huntington's Class of 1942. He went on to serve his country as an ensign in the US Navy, earn an electrical engineering degree at Georgia School of Technology (he began his college studies at Rensselaer Polytechnic Institute) and an MBA at Harvard Business School, serve as owner and president of Coldwell Banker Sammis real estate and Sammis, Smith & Brush insurance as well as lead Friends World College as its president.
"The Quentin Sammis Memorial Scholarship is given to individuals who show great passion for service to their school and community," said Mr. Christopher Barth-Dwyer, who presented the scholarships during Huntington High School's senior academic awards night.
Ms. Rosenbauer and Ms. Martinolich, who are both headed to Macaulay Honors College at CUNY-Hunter College, took turns serving as president and vice-president of Huntington High School's Key Club over the past two years. "The recipients of this award have shown great passion for their school and community and the projects they have taken on, particularly the fundraising for [2009 Huntington alum] Kaila Harlan (who was stricken with leukemia) and Relay For Life," Mr. Barth-Dwyer said.
Ms. Rosenbauer intends to study biology at Hunter College. "Michelle Rosenbauer is a gem," said Bernadette Walsh, Huntington's college counselor. "She's a breath of fresh air when she walks into my office. She exudes confidence and has a spirited take on the world. She is compassionate, involved and focused. This is how Michelle relates to the world and the people in it lucky enough to meet her."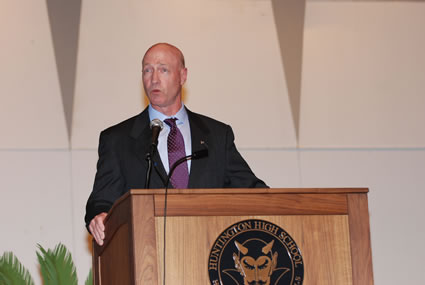 Mr. Martinolich might double major in biology and math at Hunter College. "Alex is incredible," Mrs. Walsh said. "She's well-spoken with the tone of an 'old soul.' She's introspective and articulate."
The two Huntington scholars received handsome Kiwanis Club certificates and $500 stipends. Each of the teenagers participated in a long list of activities over the last four years, including a trip with Huntington's Habitat for Humanity chapter to New Orleans to help in the continuing effort to rebuild that southern city that was substantially destroyed by Hurricane Katrina.
"Kiwanis is a global organization of volunteers, dedicated to changing the world, one child and one community at a time," Mr. Barth-Dwyer said. "The Kiwanis Club considers the sponsorship of its service leadership programs, such as the Key Clubs, to be some of the most important projects we undertake. The Key Club develops leadership, builds character and provides service to the school and community."
As leaders of Huntington High School's Key Club, Ms. Rosenbauer and Ms. Martinolich are perfect fits for the Sammis Award. Mr. Sammis, who served a term as town supervisor and as a town board member, was a charter member and past president of the Huntington Kiwanis Club. He founded the Townwide Fund of Huntington and the Huntington Arts Council and at one time or another was integrally involved in the YMCA, Huntington Hospital, the Visiting Nurse Service and the Family Service League. The 1942 Huntington served in the US Navy Reserve for two decades.
Mr. Sammis, whose family lived in Huntington village since its founding, passed away peacefully at home surrounded by his family on August 29, 2007 after battling cancer for 13 months. He was 83.