Alex Alvarado Wakes Up and Sparkles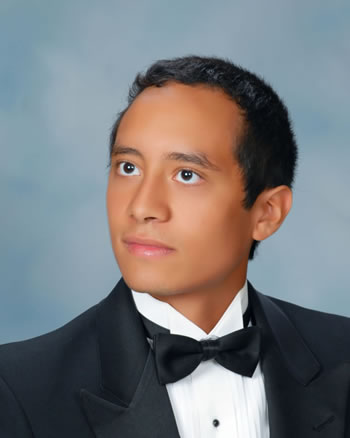 Alex Alvarado has settled into Huntington High School better than just about anyone. After a somewhat rocky start, he is now one of the top students in the Class of 2012 and his sights are set on some lofty goals.
"I arrived to Huntington High School not knowing what to expect," Mr. Alvarado said. "As a freshman, I found it quite difficult to assimilate into the new environment and had a hard time finding where I truly belonged."
Principal Carmela Leonardi has been tracking Mr. Alvarado's path for some time. "Alex is the perfect example of the student who started off not focusing on his school career and ended up taking advantage of every opportunity to improve and challenge himself," Dr. Leonardi said. "He is bright and very compassionate. He is always prepared and self-directed in his extended work."
"As the years passed, I grew to familiarize myself with the school and began to breathe deeply with a new sense of meaning," Mr. Alvarado said. "I began to have a more open mind, one that would no longer see past the realm of opportunities that lay before me. It was like a sudden and shocking realization, something that simply told me, 'wake up, Alex!'"
Like so many other students, Mr. Alvarado searched out and found topics and subjects that set off sparks of interest. "In eleventh grade, I began to develop a love for social studies," the teenager said. "AP U.S. History has been my favorite class so far."
Mr. Alvarado has an assortment of interests outside of the classroom, too. "Starting in eleventh grade, I worked for about a year to save up for a trip to Costa Rica the following summer, where I volunteered with a sea turtle conservation project and helped to paint a small elementary school," he said about a recent international journey.
The senior played soccer as a freshman and ran spring track as a sophomore, but homework and a job interfered and prevented him from continuing to participate in the Blue Devil athletic program.
Mr. Alvarado earned an honorable mention award in this year's national Hispanic recognition program. He also received a Student Achievement Award during the Hispanic heritage celebration at Huntington Town Hall. The senior has garnered Awards of Excellence in chemistry and physics and a Pride Award for his work in AP Literature and Composition.
During the fall, Mr. Alvarado volunteered as a tour guide during an open house program for parents of K-8 students and for local realtors. "He proudly represented our school and talked about how his focus on academics helped him turn his life around," Dr. Leonardi said.
During the recent AP Night at Huntington High School, Mr. Alvarado served on a discussion panel, answering questions about his experiences in the AP program. His insights proved valuable for those in attendance.
The teenager is currently enrolled in Participation in Government and five AP courses, including AP Biology, AP Calculus AB, AP Microeconomics, AP Literature and Composition and AP Spanish.
"I have to say, the one I am enjoying the most is AP Lit," Mr. Alvarado said about his senior year classes. "Something had to get me back in the habit of constant reading. I used to be inseparable from my novels or from the fascinating descriptions in the encyclopedia. Now when Mrs. [Kelly] Quintero (the AP Literature teacher) hammers Hamlet interpretations into my head, I feel a sense of rejuvenation and a familiar excitement."
Moving forward, Mr. Alvarado has impressive goals. "In the future, I hope to attain my Ph.D. in psychology," he said. "I have recently developed aspirations to study at Columbia University and even if it is not immediately possible, I have confidence that I can make it happen in the future."
The articulate young man should not be underestimated. "I consider myself to be a thinker, as I am truly someone who ponders quite a lot about almost everything, although this habit doesn't always work out in my favor," Mr. Alvarado joked. Still, one gets the sense that the teenager is perfectly capable of making all of his dreams come true.
Mr. Alvarado will graduate in June with a sense of satisfaction. "One thing I truly appreciate about Huntington High School is the diversity, which I believe is a golden rarity that we must all take in and embrace, because it is not always available," he said.
It's hard to believe that four years have breezed by so quickly. Mr. Alvarado has some advice for incoming freshmen: "Focus on what you can truly take in, instead of blindly skimming the surface."