Woodhull Winter Concert Wows Crowd
If a person didn't know any better the Woodhull Intermediate School winter concert could easily have been mistaken for that of a middle school. That's how good the young musicians were.
A large crowd, which nearly filled the lower level of the Huntington High School auditorium, turned out for the event and marveled at the talents of the fifth and sixth grade band and orchestra members.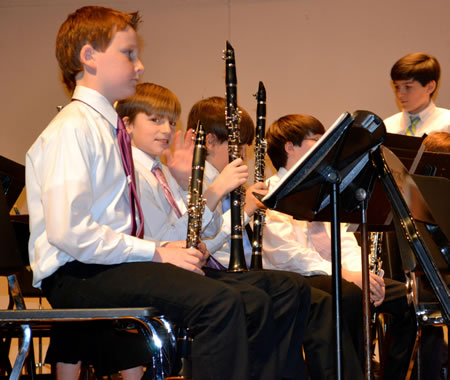 More than one person in the crowd called the concert "an amazing show" and none of the students were heard to disagree. The musicians came dressed in sharp attire, with dark colored pants and white shirts. The boys wore ties to complete their look.
Music teachers Chelsea Jablon, Tara Adams, Christina Bhasin, Pamela Jacovina and Dr. Claude Masear kept busy either directing or assisting with the orchestra and band. By the end of the night, the faculty members wore wide smiles on their faces.
The orchestra performed a variety of songs, including the crowd favorite, "Linus and Lucy." The band kept everyone tapping their shoes with a popular selection of melodies and a stirring rendition of "God Bless America."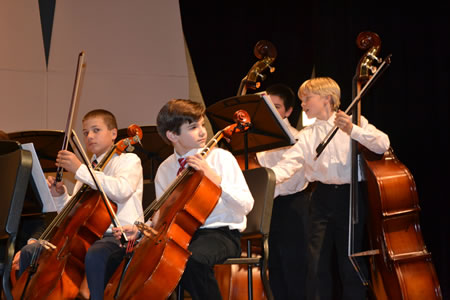 As sweet music filled the auditorium the crowd appeared captivated and thoroughly entertained. Parents wore looks of pride as they watched the culmination of many hours of practice and rehearsals by their sons and daughters.
"It was a beautiful evening," Woodhull parent Debbie Chin said. "The students' hard work, dedication and early morning rehearsals really paid off." Similar sentiments were echoed by others in the crowd as they filed out of the auditorium at the end of the evening.
Joan R. Fretz, district director of fine and performing arts enjoyed the concert, too. "I was very impressed by the mature quality of each ensemble's performance in the concert," she said. "The students played with great expression and technique. I was pleased to hear everything the students learned about the pieces they played. Our music teachers are doing a great job of infusing language arts skills into their instrumental programs by having students read and write about the music they are playing, and deepening their understanding of how composers 'paint a picture with just sound."