World-Renowned Author
Coming to Finley
It isn't everyday that a world-renowned author comes calling at a local public school. J. Taylor Finley Middle School students are in for a treat when legendary Peter Lerangis presents three assemblies for seventh and eighth graders on February 10.
The author's visit is sponsored by the Huntington School District's Arts in Education Committee. Mr. Lerangis has penned more than 160 books and sold 4.5 million copies that have been translated into 28 different languages.
Mr. Lerangis will present what is being billed as three "high-energy, engaging assemblies" at Finley. He will discuss his life as a writer and how he develops ideas for creative writing, along with explaining the various stages of the writing process itself.
Well-known for his New York Times best-selling book series, The 39 Clues, Mr. Lerangis is a Harvard graduate with a degree in biochemistry. He was a Broadway musical actor before settling into a full-time writing career.
Huntington's Arts-in-Education Committee will be sponsoring a book sale prior to the event. Students who purchase books in advance of Mr. Lerangis's visit will receive a signed copy. The author has arranged for the publisher to release copies of Somebody, Please Tell Me Who I Am prior to the official release date. Students who purchase this book will be the first in the nation to own a signed copy.
For more information about the visit contact Director of Fine and Performing Arts Joan R. Fretz at jfretz@hufsd.edu.
Huntington's AIE committee of OOMPAH (Organization of Music Parents of Huntington) presents programs designed to enhance the study of literature, humanities, mathematics, science, fine and performing arts, health and character education. In past years, students have been provided with opportunities to visit and learn about the unique historical sites throughout Huntington. There is a special emphasis on providing programs for single grade levels that connect with specific curriculum objectives.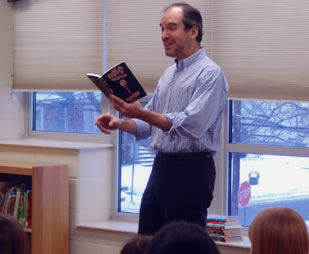 AIE committee members are local parent volunteers. Ms. Fretz advises and helps coordinate the committee, which receives support from the Huntington Council of PTA's and also conducts its own fundraising. 
The AIE committee researches and plans cultural arts and exploratory programs linked directly to core curriculum for every grade level. Through its efforts, students have been able to participate in a wide range of experiences from seeing their own pieces of creative writing performed by professional actors and chatting with famous authors to working with real scientists and "meeting" characters from American history.