Blue Devils Watch Alum Play at SBU
The Blue Devil girls' basketball team traveled to Stony Brook University to watch Huntington High School alum Julie Forster, who is a big-time college basketball player at the University at Albany. Forster has produced a string of good games and is respected by opponents far and wide.
"The girls really enjoyed themselves and were excited to watch a NCAA Division I college game," said Marissa Bergmann, Huntington's assistant coach, who was there along with head coach Mike Kaplan. "It was a great experience for the girls and I think each one of them took something from it. They were able to see girls' basketball at a much higher level, as well as being able to support one of our very own."
Forster was an Academic All-American last winter and was named to the America East Conference All-Defensive team. She is majoring in business administration and has a near perfect grade point average.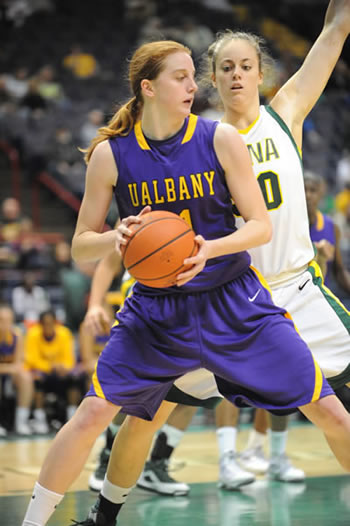 At Huntington, Forster played on four different varsity teams, making her most impressive mark in basketball where she scored more than 1,000 points. She helped lead the team to three straight appearances in the Suffolk finals and the 2008 county crown. A five-time varsity letter winner on the hard court, she was a two-time All-County and All-State player.
Forster has looked good this year. In four recent games she has shined. Against New Hampshire, the Huntington alum had 11 points, eight rebounds, two assists, two blocks and two steals in 27 minutes. Against Vermont, Forster had 15 points, 11 rebounds and two steals in 34 minutes. Against Maine, she had 16 points, 12 rebounds, two blocks and a steal in 29 minutes. Against Boston University, Forster had nine points, eight rebounds, two steals and an assist in 40 minutes.
"Julie is an outstanding role model for our girls," Bergmann said. "She was a tremendous help during open gym this past summer. She shows that with hard work and dedication you can succeed at any level. The girls were thrilled to see her in action."