World Cultures Tour with Masks
at Southdown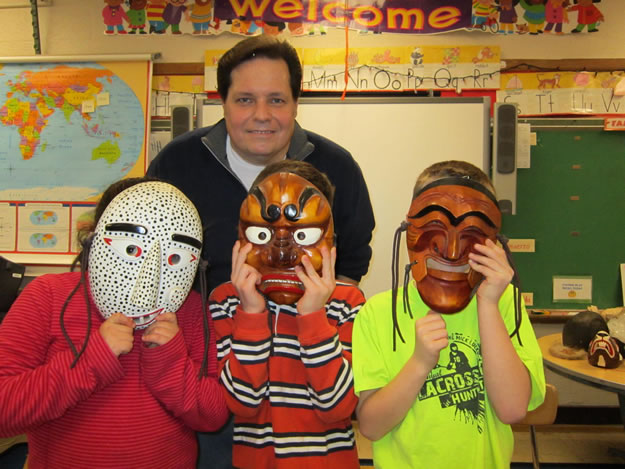 You never know what's going to happen in David Crimi's second grade dual language classroom next. The Southdown Primary School teacher likes to keep his students excited about learning, so he's always developing new ideas to inspire and motivate.
When parent Paul Perillie heard his daughter would be learning about Native American masks in Mr. Crimi's class, he couldn't wait to share his own collection with the Southdown youngsters. Mr. Perillie has quite a collection of masks from across the world.
Mr. Crimi planned the parent's school visit perfectly. When Mr. Perillie and his daughter entered the classroom wearing happy and sad masks, it served as a launching point to begin a discussion about the uses of the masks, the materials used to make them and their similarities and differences.
Each youngster stepped forward to model a mask as Mr. Perillie presented them one-by-one along with information about its origin and function. "I have been collecting masks for 25 years," Mr. Perillie said. "Each one is unique."
The respective country represented by each mask was plotted on a world map as the class learned how masks were used for scaring away evil spirits, curing people and hunting, celebrating festivals and telling stories.
Naturally the students had plenty of questions and comments and it was hard to contain their excitement. The youngsters seemed to get a big "kick" out of seeing Mr. Crimi and Southdown Principal Michelle Marino model masks, too. Each student later drew their own mask and described its uses.
"This kind of presentation is unforgettable for my class," Mr. Crimi said. "To engage in a hands-on discussion about global culture is a priceless opportunity."