HHS Journalism Class Visited by Alum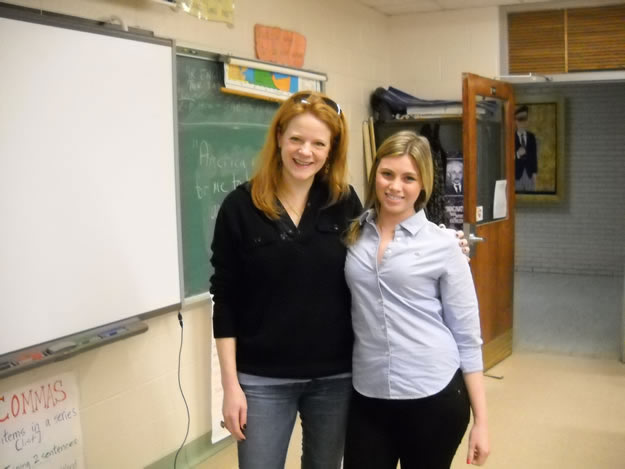 Erin Zammett-Ruddy can still find her way around Huntington High School without the least bit of confusion. A member of the Class of 1996, she returned to her alma mater to meet with students in teacher Aimee Antorino's journalism class.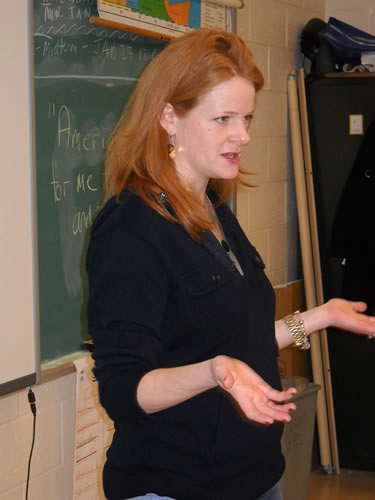 It was the second consecutive year Mrs. Zammett-Ruddy has come to the school to share her life story, and what a tale it is. She's learned to balance love, work, family and friends while battling a life threatening illness, getting married and becoming a mother.
After graduating from the University of Tennessee, where she earned an athletic letter as a varsity volleyball player, Mrs. Zammett-Ruddy landed a position at Glamour magazine. She worked there as an assistant editor for eight years, leaving in 2008 and moving from Manhattan to the Huntington area to raise her two children with her husband, Nick.
While working as an editor at Glamour, Mrs. Zammett-Ruddy learned she had been stricken with chronic myelogenous leukemia. She penned a book in 2005, "My So-Called Normal Life," which tells the story of what it is like to receive a frightening cancer diagnosis at 23 years of age and Mrs. Zammett-Ruddy's subsequent battle against the feared disease. The book evolved from her columns at Glamour.
"Her book tells the story of her trusting an experimental drug and continuing her life as a writer, wife and now subsequently, mother of two children as she battled this disease," said Patricia Dillon, Huntington High School's librarian, who was present at Mrs. Zammett-Ruddy's appearance.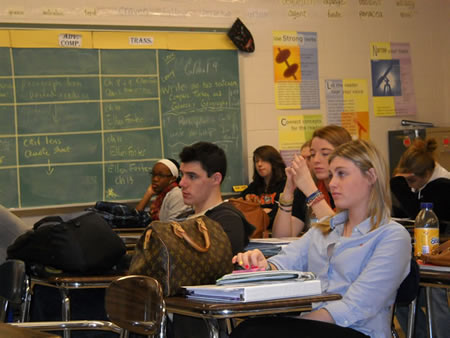 Since departing Glamour, Mrs. Zammett-Ruddy has worked full-time as a freelance writer. Over the course of her career, her work has appeared in numerous magazines including Glamour, Playboy, Modern Bride, Real Simple, Redbook and Parenting.
Huntington senior Jacqueline McAllister decided to highlight Mrs. Zammett-Ruddy's career and personal achievements in a journalism class project. The two posed together for a photo on the day of the alum's visit.
"During her interaction with the class, Ms. Zammett shared the humor and intricacies of being a freelance writer and also stressed to the students the importance of networking and its value in the career path," Mrs. Dillon said. The journalism students asked a series of probing questions that Mrs. Zammett-Ruddy answered thoughtfully.
"I just hit the 10-year mark of being diagnosed with chronic myelogenous leukemia," Mrs. Zammett-Ruddy said. "My sister Melissa just hit seven years since being diagnosed with Hodgkins lymphoma. To celebrate the fact that we are both thriving and to commemorate those milestones in a way that helps others, we have signed on to be a part of the Leukemia & Lymphoma Society's Man/Woman of the Year Campaign. It's a 10-week long fundraising competition (March 8 - May 17) where candidates can raise money in any way they like."
Mrs. Antorino is co-faculty advisor of Huntington's English Honor Society and the organization might participate in the fundraising initiative as a community service project. "Because the LLS does so much to help patients like me and my sister, I have set my goal at $100,000," Mrs. Zammett-Ruddy said. "I have a fabulous team in place and we have some great events already lined up but we are definitely looking for more help and would love to get Huntington High School involved in some way."
Mrs. Zammett-Ruddy, who played soccer, basketball, volleyball and softball as a teenager, has raised a pile of money for cancer research and has served on the board of directors of the Leukemia & Lymphoma Society's New York City chapter and Gabrielle's Angel Foundation. She has appeared on Good Morning America, Dateline, Nightline and The Today Show.
It's not surprising that Mrs. Zammett-Ruddy finds the time to visit her alma mater when a call comes in requesting she do so. "Melissa and I are both proud Huntington grads and we're both back in town raising our families locally," she said.