Finley Colonial Showcase
Spotlights Talents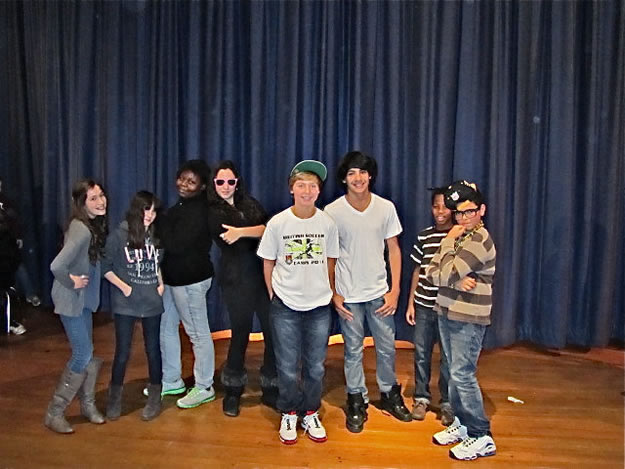 J. Taylor Finley Middle School social studies teachers are always looking to incorporate interdisciplinary components into their lesson and unit plans. The faculty members feel such activities help motivate every type of learner. A recent "colonial showcase" fit the bill perfectly and was judged a huge success.
Held in Finley's large group instruction (LGI) room and organized by seventh grade teachers Angela Long, Kimberly Finneran and Esmeralda Tello, the event included poetry, dialogues and songs. "We had over 40 students who actually had the courage to perform before over 200 of their peers," Mrs. Long said. "It really went well!"
In the run-up to the showcase, students were taught to write limerick poems based on historical people, places and events. Students then performed their limericks, freestyle poems, dialogues, songs and raps during the colonial showcase.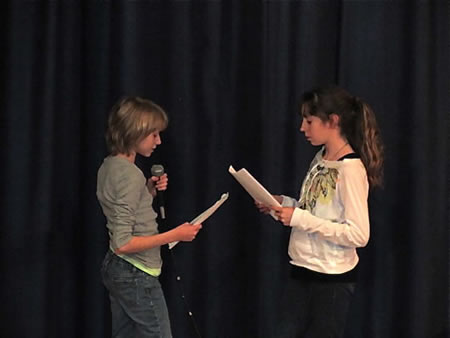 The event drew a seventh grade crowd that filled the auditorium. Ms. Long kicked-off the showcase with a rap that honored former social studies teacher Brad Reminick for starting the annual rap-a-thon tradition. (Mr. Reminick is now an assistant principal at Copiague High School.) Ms. Long also applauded her fellow seventh grade social studies teachers for encouraging their students to perform and continue the tradition.
Teachers Lauren Amendola, Melanie DeMarco, Christine Nugent and Christopher Theodorellis served as judges for the showcase. "It was great for students to see their English, math, science and special education teachers working together and supporting social studies differentiated instruction outside of the classroom," Mrs. Tello said. "The presenters were meticulously judged on preparation, presentation and stage presence."
Zaivar Butts won the poetry contest for his work that criticized King George III and unfair taxation. Mr. Butts thanked science teacher Tom Tantillo "for his encouragement and support."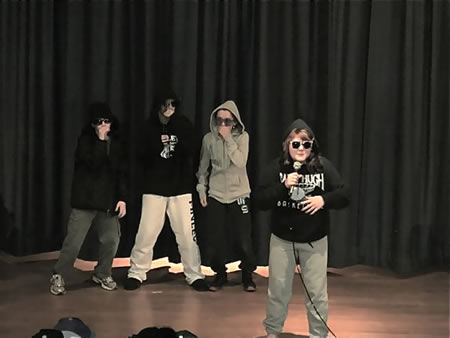 Poetry contest runner-up Carlos Cordero stirred the crowd with a passionate poem about the injustices of the English Parliament. Mr. Cordero said it took two weeks to write his poem and he expressed feelings of pride in his hard work.
Winning top honors in the showcase's rap category was William Bonilla. His four minute rap was full of colorful metaphors and historical facts. His ease with words and stage presence impressed teachers and Principal John Amato, too. Mr. Bonilla was asked to perform his winning rap near the close of a school-wide talent show held in the Finley gym later that same day.
The colonial showcase was a big hit with both the seventh graders performing and sitting in the audience. "The students were beyond entertaining and they will surely not forget what they have learned," said Superintendent James W. Polansky, who attended the event.
The social studies teachers sent "special thanks" to eighth graders Justin Waite and Page Montecalvo "for helping with the production of this year's colonial showcase," Mrs. Tello said.
The seventh grade social studies teachers said they are looking forward to fostering additional enrichment opportunities for their classes and to co-teaching lessons designed to bring out the creativity, ingenuity and active learning of their students.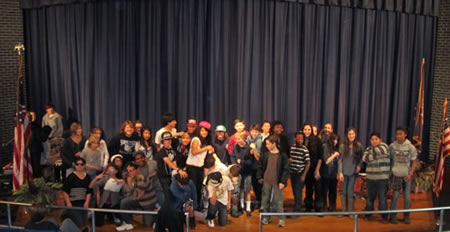 "It is precisely these types of activities that 'hook' students into becoming active learners and foster a positive school environment," Mrs. Tello said. "I am thankful for the support of the seventh grade faculty and the administration in showcasing differentiated learning in an interdisciplinary setting."
Ms. Long and Mrs. Tello also arranged for a same-day viewing of The Crossing in the LGI. The 2000 film stars Jeff Daniels in the role of George Washington. The film is a dramatization of General Washington's famed crossing of the Delaware River and the subsequent attacking of British forces at Trenton by the Continental Army during the Revolutionary War.
"Students filled the auditorium for the second time that day taking in the sights and sounds of the non-fiction film that visualized what students learned from classroom readings and discussions," Mrs. Tello said.