Badalamenti Dives into Life at Sacred Heart College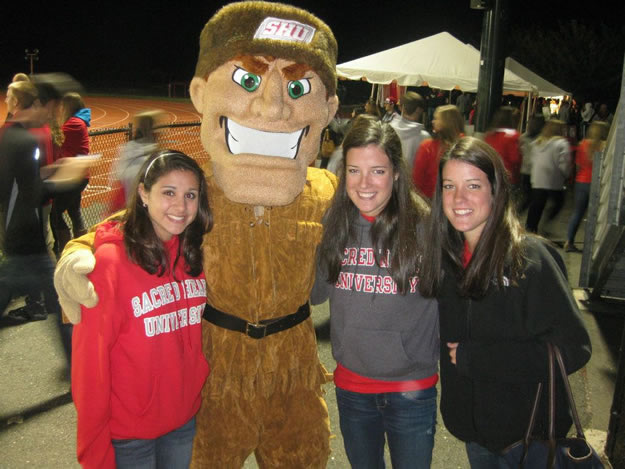 Cristina Badalamenti always takes advantage of whatever opportunities come her way. The teenager is doing just that at Sacred Heart University in Connecticut where she recently completed her first semester of studies. Between classes, activities and friends, the Huntington High School Class of 2011 member keeps herself very busy.
"Everything is going well," Ms. Badalamenti said last weekend. "My first semester of college was great. I can't believe how fast it went! Living away from home was hard in the beginning, but I'm very fortunate enough to have a great roommate and to have met really nice people. Having my best friend from home, Jackie Beatty here is also a plus."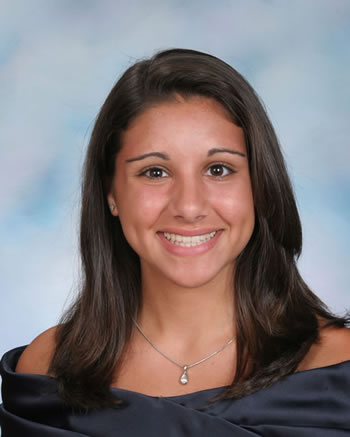 Ms. Badalamenti plans to major in health science at Sacred Heart. Most of her fall semester classes were requirements that all freshmen must complete. But, she is already starting down her major's science tilted path.
"Sacred Heart is great and I absolutely love it there," the Huntington alum said. "The class that gave me a hard time was biology, because it was very difficult. I'm convinced that the only reason why I did well in that class is because I remember most of the material from my 10th grade Huntington High School AP Bio class with Mrs. [Deborah] Beck."
It wasn't long after she arrived on campus late last summer that Ms. Badalamenti started to get involved in club activities, including Habitat for Humanity, the student events team, the Pre-OT (occupational therapy) club and the Residential Hall Association.
The former Blue Devil sports star also joined Sacred Heart's club soccer team. "Being a part of the soccer team was definitely my favorite part of this semester," Ms. Badalamenti said. "I love spending time with my teammates, the coach is really nice and the practices were really laid back. It was a really nice break from all my school work."
The team had a blast despite all of its games being cancelled except for one due to rain and snow. "We did scrimmage the boy's club soccer team, which was a lot of fun," the always optimistic Ms. Badalamenti said. "Luckily there's a spring season and I'm really looking forward to playing against other schools!"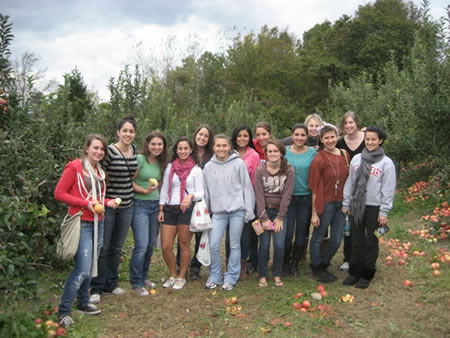 During last spring's Blue Devil senior athletic awards banquet, Ms. Badalamenti was recognized as the MVP of the girls' winter track and field team and received a Section XI Gold Key for her prolific participation. She excelled on the soccer, winter and spring track teams and earned a varsity letter in every sport season from her sophomore through senior years
She's still enjoying the intersession break, but the spring semester is already shaping up nicely for the Huntington grad. "I'll still be taking classes that are required for freshmen, like academic writing, Western Civilization, Intro to Religion and Information Literacy," Ms. Badalamenti said.
She is also enrolled in Intro to Psychology and Health Care Administration Practice, "which are two classes that are required for my major (health science, pre-occupational therapy)," Ms. Badalamenti said.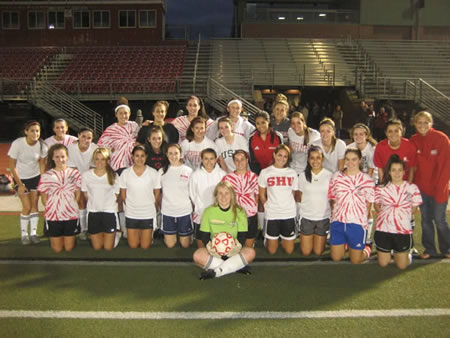 Ms. Badalamenti, who was adored by her teammates, coaches and teachers, received four awards at Huntington High School's senior academic awards night last June. Among them was the Italian Award, Italian Honor Society Award, the $300 Sons of Italy scholarship (Arthur Toscanini chapter) and the $1,000 MSG Varsity scholarship.
The upbeat teenager was one of only five Suffolk seniors to win the Sons of Italy scholarship, presented in recognition of her excellence in mastering the Italian language. The MSG Varsity scholarship was presented to Ms. Badalamenti for her achievements in both athletics and academics.
Like many high school seniors, Ms. Badalamenti was accepted by several different colleges and she had to weigh the pros and cons of each and decide where she wanted to attend school. Sacred Heart seems to be a perfect fit for the teenager.
"So far, I'm having a great time at school and I can't wait to start my second semester," she said.