Finley Colonial History Unit
Comes to Life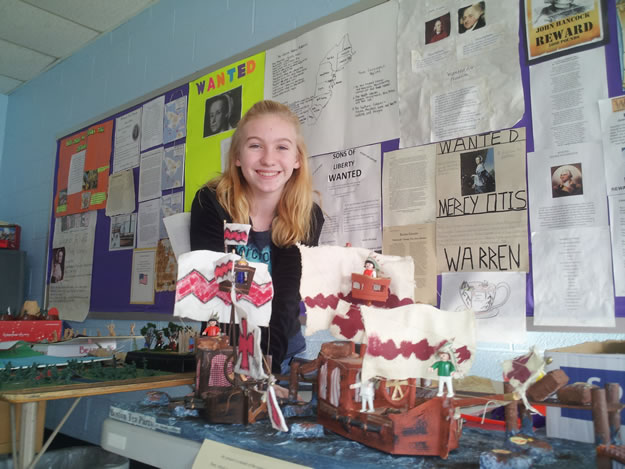 A unit on colonial American history came to life for J. Taylor Finley Middle School seventh graders who dove into the past through a variety of multidisciplinary activities.
Reading, writing and exciting discussions were at the focus of teacher Angela Long's social studies classes where students read colonial novels and learned an assortment of new words, phrases, facts and "stories behind the story."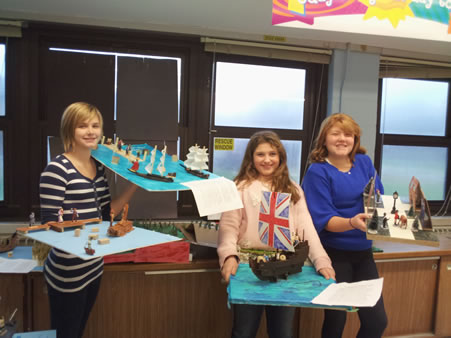 Meanwhile, teacher Esmeralda Tello's classroom was turned into an exhibition area for student created dioramas, engravings, comic books, mock newspapers, Lego exhibits, letters, documents, clay and wood models and various types of artistic mediums that displayed student knowledge of themes learned during classroom sessions.
Students developed some ingenious projects. A partial list includes: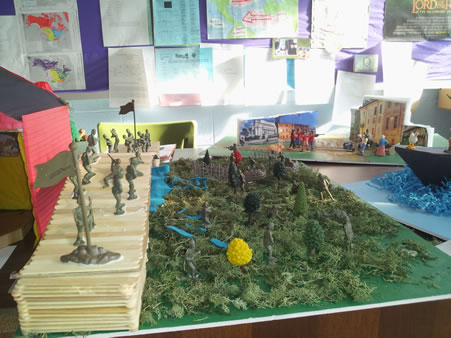 • Jacob Strieb wrote a letter of protest to King George III using actual parchment paper, ink and a feathered pen.
• Chloe Liepa and Rebecca Toth built a wooden ship model of the Boston Tea Party from scratch.
• Hannah Olsen created an engraving of King George III on clay and gave a report on Paul Revere and the printing press.
• Kayla Anderson created a colonial diorama of The Boston Tea Party completely out of clay.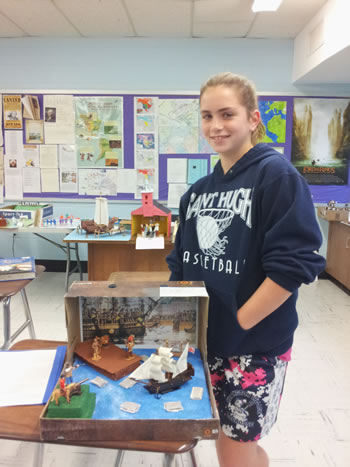 • Alexandra Smith made dolls representing a mob of protesters known as the Son's of Liberty from wood and cloth in front of a cardboard town hall.
• Jacob LaBarge baked a cake exhibiting the dumping of British tea in Boston Harbor and glazed the cake in tea.
"Students were encouraged to use their creativity and talents to present a project with a short essay on an important event in American History," Mrs. Tello said. Students rose to the task, exhibiting a collage of talent that transformed Mrs. Tello's classroom into an art exhibit.