Blue Devil Volleyball Turns Corner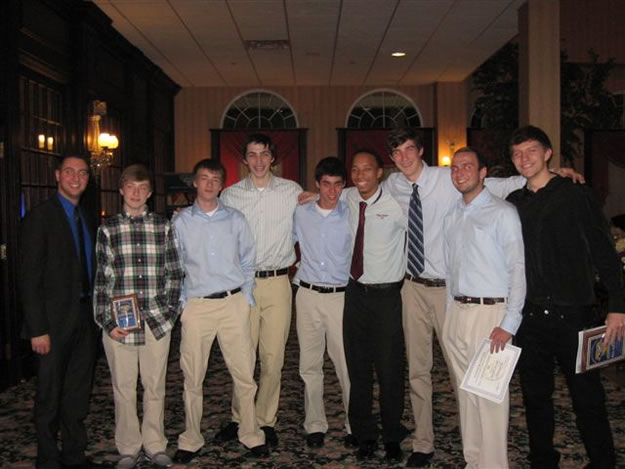 It seems clear the Huntington High School boys' volleyball program turned a proverbial corner this past season, going from a team that lost most of its matches to one that was very competitive. The Blue Devils surprised more than one opponent.
It will be a challenge to field another quality team next fall since 10 Blue Devils are set to graduate in June. Five underclassmen will return, including one starter. Right now, head coach Chris Mooney isn't really worried. He is still enjoying a fine season that saw eight players earn post-season honors.
Huntington was fourth in the league standings with a 5-7 record (5-8 overall). The record is a little bit deceiving since several of the losses could have easily swung in the Blue Devils' direction with a break here or there.
The 15-player squad was captained by seniors John McCarthy and Michael Sullivan. McCarthy turned in a sensational season with 222 kills, 44 aces, 23 assists and 20 blocks. "John is the best all-around player to come through this program in a long time," Mooney said. "He led the team in kills and aces and was our best passer."
Sullivan enjoyed a stellar year, too, with 163 kills, 27 aces, six assists and 17 blocks. "Mike was an excellent team leader," Mooney said. "He embraced that role and really emerged as one of the top hitters in our league."
Sophomore Ryan Casale also shined with eight kills, 23 aces, 367 assists and 15 blocks. "Ryan is extremely athletic and will emerge as a team leader in the future," the coach said.
Tyon Herion (40 kills, 31 blocks), Will Christensen (14 kills, 20 blocks), Joe Straub (13 kills, 21 assists, 10 aces, 11 blocks), Mitchell Johnson (79 digs, seven aces) and Dan Cohn (21 digs, five aces) also played key roles in the team's success.
During an awards dinner at the East Wind Caterers in Wading River, eight Blue Devil players earned special recognition. Among those honored were McCarthy (All-County and Academic All-County), Sullivan (All-League), Casale (All-League), Johnson (All-League), Christensen (All-League honorable mention), Herion (All-League honorable mention), Hardardt (Academic All-County) and Straub (Academic All-County).
"Our team had a lot of talented players who worked very hard to get to this point," Mooney said. "There was more dedication this year than there has been since I have been a part of this program. They are truly great kids who I know I will miss greatly in the future."
Mooney cited a 3-2 win over Westhampton Beach as Huntington's crowning achievement. "With our playoff hopes on the line, we came out stiff and flat at Westhampton," he said. "We lost a very close first game and got blown out in the second game. Down 0-2, we came back and won three straight games to win the match. This match included big plays from the entire team. Michael Sullivan took over. The win kept our [playoff] hopes alive."
With only one starter returning to the fold next fall, Mooney foresees a "rebuilding" year. He's hoping for a large incoming freshman class of players to keep Huntington's fortunes moving in the right direction.