Haley Brown Continues
Family Tradition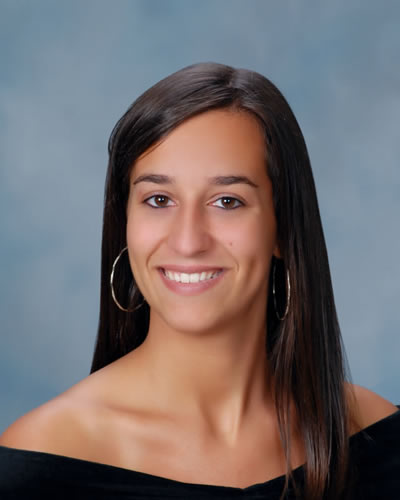 Haley Brown is one of the proudest members of Huntington High School's Class of 2012. Her relatives have been attending district schools for more than 100 years and she's happy to continue the cherished tradition.
The teenager is heading to the finish line of a sensational four year run which has seen Ms. Brown earn good grades, play on Blue Devil sports teams and do her part to boost school spirit.
The senior said her high school experiences have ranged from "finding true friends" to "finding my way around the big bad high school." Oh, that "big bad" reference was said tongue in cheek. Ms. Brown is a keen observer, soaking up everything and everyone that comes her way. She's heard all the negative statements about Huntington High School and learned for herself that they really aren't true.
As the teenager strived to learn all about high school life, she discovered the role school spirit plays in a student's daily experience. Homecoming week solidified her impressions. Ms. Brown recalled the special days – crazy hair day for one; and the Friday afternoon pep rally in the school gym that typically sees each fall team performing a skit or doing something "silly," she said.
"I never realized that a school could be so much fun," Ms. Brown said about the homecoming festivities. She's a typical teenager and fits in seamlessly with her classmates and good friends. Teachers can't help but like the upbeat teenager.
Huntington High School has no bigger booster than Ms. Brown. "I was able to share my enthusiasm by being a tour guide for parents of younger children who will be going to the high school in the future," she said about participating in a series of open houses held this past fall.
All-League Player
An All-League volleyball player, Ms. Brown has played on the Huntington varsity softball team since her sophomore year. She earned All-League volleyball honors and has played on an outside league team, too.
The teenager developed a strong relationship with Blue Devil volleyball coach Caroline Reilly, who Ms. Brown called "one of my favorite coaches." She said she "loved" playing for softball coach Todd Jamison, who also works as a high school security guard. "Mr. Jamison has been a mentor for me and has pushed me to strive for the best," Ms. Brown said.
Ms. Brown will be attending Alfred State College next fall. She has been accepted into the nursing program there. She's worked hard at Huntington High School and has a fine academic record to show for it.
Favorite Teachers
"I enjoyed all of my teachers, but so far my favorite is my English teacher, Mr. [Michael] Schwendemann," Ms. Brown said. "He is one of the best teachers in the high school and knows how teenagers work. He finds ways to make the course interesting and fun. Although Mrs. [Bernadette] Walsh is a guidance counselor, she is one of my favorites, too. She has done so much for me by helping me with my applications, college searches and just planning for college. If it wasn't for her, I wouldn't be going to Alfred State College."
As she nears her final days at Huntington High School, Ms. Brown has grown reflective. "Now that I have reached the end of my wonderful high school years, I realize that I would do it all over again," she said. "I remember my family telling me 'enjoy your high school years,' but I never expected it to go by so soon. My advice to future freshman would be 'enjoy your high school years and to never take things for granted because you don't ever want to look back with regret."
With her deep family roots in Huntington, it's a sure bet that the senior will be back in town during breaks at Alfred State. She will walk away with a high school diploma in a few months and leave with lasting good memories and friendships.
"My experience in the high school is one that I will never forget," Ms. Brown said.