Grandfriends Club is Tireless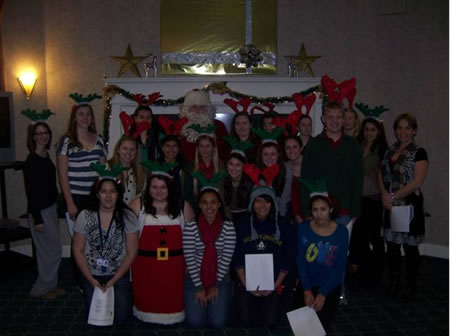 Huntington High School's Grandfriends club is keeping busy. Ranging from extensive planning and fundraising for its ambitious slate of events to Halloween parties, food drives, Thanksgiving basket building and Christmas caroling at Atria Senior Living Center, the club's energetic members never stop for too long.
The Grandfriends' fundraising efforts consist mainly of bake sales, including cookies and "Biagi brownies." The club relies on the generosity of others and in the past has received support from the local business and non-profit communities.
"Halloween starts with a costume party and get-together for seniors at the Town of Huntington's senior citizen outreach center and ends with Safe Halloween at Huntington High School for elementary school students," said Suzie Biagi, a teacher at the school and co-advisor of the club along with retired librarian Camille DeCanio.
Once Halloween is over, it's time for the group's Thanksgiving basket initiative. The baskets, which are filled with donated food items and gift cards purchased by the Grandfriends are raffled off for free at an event at the senior citizen outreach center during the run-up to Thanksgiving Day.
The Grandfriends' most recent event was holiday caroling at Atria Assisted Living on Beverly Road in Huntington Station. A group numbering 38 strong caroled and visited with the facility's residents, enjoying music, laughter and a tea party consisting of cookies and juice once the singers felt wiped out.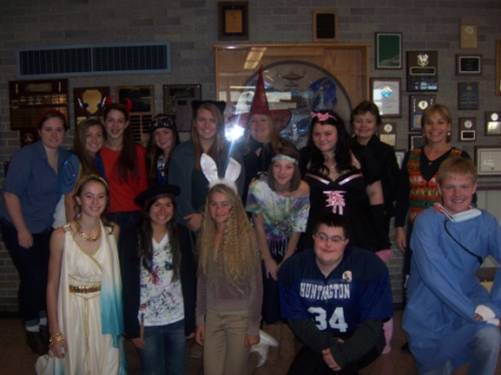 "We had such a great time singing and visiting," Mrs. Biagi said. "We can't wait to spend more time with them. The seniors and the students love being together and sharing special moments such as these. Many of our students do not have grandparents and this is a wonderful cross-generational way to make those types of relationships."
The organization's next event is a fashion show at Atria. "The residents will be modeling their finest attire and the Grandfriends will be escorting and navigating the catwalk right alongside them in their favorite party frocks, as well," Mrs. Biagi said.
This year's Grandfriends grand finale is slated for May 4. "Our senior senior prom is a work of love," Mrs. Biagi said about the club's culminating event. "From January through the beginning of May, we will be planning, designing, inviting, creating and finally hosting a senior prom for our senior citizen friends. We can't wait."