Aladdin, Jr. on the Woodhull Stage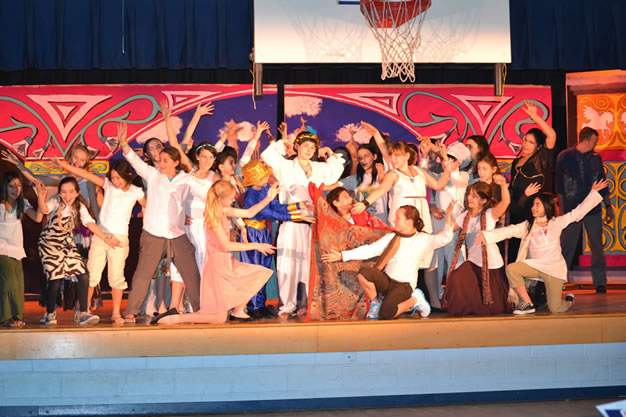 With great acting and set design, Disney's Aladdin, Jr. entertained audiences of all ages at Woodhull Intermediate School. The production relied on the efforts of more than 80 students, who had the time of their lives.
The play was dedicated to Woodhull sixth grader Patrick Hannon who passed away suddenly last summer while at a Boy Scout camp in Rhode Island. Last winter, Mr. Hannon participated in The Music Man, Jr. at the school as a member of the boy's band.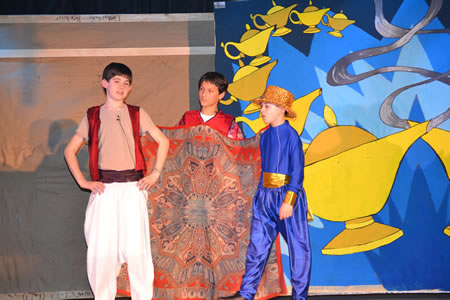 Teacher Allison VonVange once again served as the faculty advisor for Woodhull's drama club. She worked for five months with seven dozen students with responsibilities spread among the cast, ensemble and scenery and stage crew.
"I couldn't be prouder of this year's production," Ms. VonVange said. "The students were amazing. It was a privilege to work with each of them and see the play progress from the first practice to the grand finale!"
The stars of the play included Alyssa Befumo as Jasmine and Quinn Blackburn was Aladdin. Three former student-actors returned to assist with the production, including Caitlin Etri, Hannah Pippolo and Kirsten Freiman. All three alums are veterans of the elementary school stage.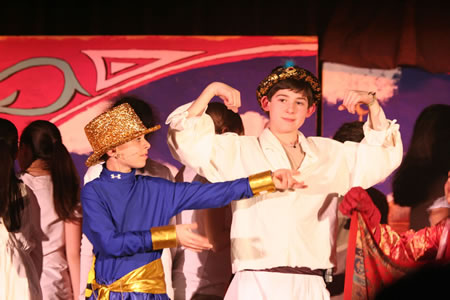 A sophomore biology student at Cornell University, Ms. Etri was "Amaryllis in The Music Man, Jr." Ms. Pippolo, a Huntington High School junior, played the lead role in Annie. Ms. Frieman, who attends SUNY Potsdam, also returned to lend a hand with this year's production.
Art teacher Todd Hiscox once again handled scenery, lighting and sound, along with a crew of dedicated students. The group's work helped make this year's production one of the best ever. Special t-shirts were created to celebrate the production. Maggie Giles designed the front and John and Katie Riley designed the back.
Parents and family members had several opportunities to attend the production. Fourth graders from Flower Hill, Jefferson, Southdown and Washington schools were also treated to a daytime show that was coupled with tours of Woodhull School.
Teachers, parents and students all agreed that Aladdin, Jr. was a smash hit. "It was a lot of fun," a fifth grader said, echoing the prevailing sentiment.