HFEE Grant Helps Students Beautify Hallways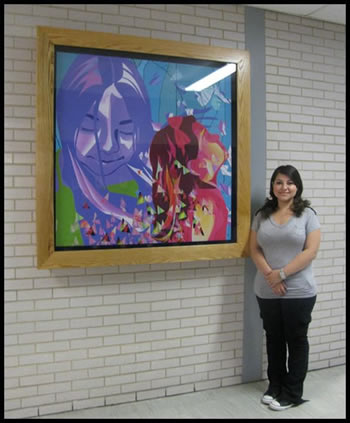 The artwork found in hallways throughout Huntington High School continues to be updated as part of a two-year school beautification project being carried out by the Art Honor Society.
"Art is not only an individual process, but a global movement," said Kylee Kiesel, president of Huntington's Art Honor Society. "It is a means of inspiration and hope for all that it touches."
Student artwork that has been displayed for many years is coming down and replaced with recent pieces. New display cases have also been installed to allow for additional pieces to be attractively exhibited.
The Huntington Foundation is financially supporting the initiative and has awarded a $600 grant to fund five canvas enlargements. "A lot of people have acknowledged the new artwork, but do not know where it is coming from," said Kasmira Mohanty, a high school art teacher and the Art Honor Society's faculty advisor.
"Art is an excellent vehicle for students to reach many people at every stage of life," Ms. Kiesel said. "Surrounding oneself and others with artwork can be healing and uplifting."
The initiative has been popular with students and teachers. Displays of newer works are being erected all around the school. The pieces were created by current sophomores, juniors and seniors, as well as recent graduates.
The type of art displayed runs the gamut and is of high quality and quite innovative. It's colorful, frequently ingenious, thought-provoking and both creatively and intellectually deep.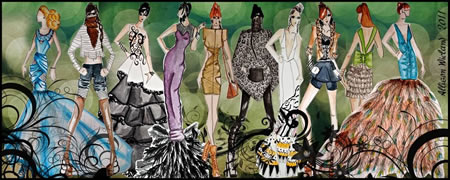 A number of new works have been put on display in the school's main hallway, including along the guidance offices. Visitors to the school have been spotted admiring the works.
"The continuation of updating the artwork publicly displayed around the high school gives student-artists an opportunity to experience a sense of accomplishment and pride that they may not be able to obtain otherwise," Ms. Kiesel said.