Nina Flores' Talent Speaks for Itself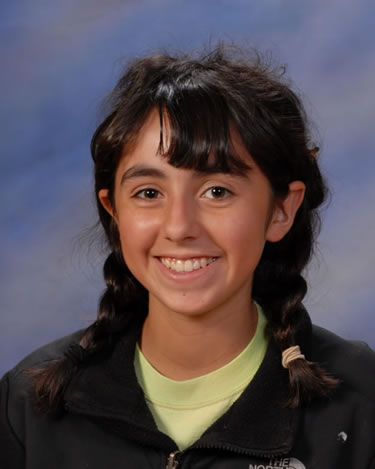 Nina Flores is a quiet Huntington High School sophomore who lets her talent speak for itself. The teenager recently performed with the Suffolk County Music Educator's Association All-County percussion ensemble.
The prestigious group of young musicians was chosen for the ensemble through auditions. Ms. Flores is one of just 16 members from across the county to be included in its ranks.
Billed as a Day of Percussion, the event included clinics by Javier Diaz on Latin percussion, the University of Massachusetts marimba band and Gregg Bisonette on drums. The day closed with an "amazing" concert performed by the SCMEA percussion ensemble, said Jason Giachetti, a Huntington High School music teacher.
Throughout the day, the members of the ensemble got to meet the clinicians and work with them for a wonderful and unique educational experience. "Nina is an amazing musician with an incredible gift," Mr. Giachetti said. "It was incredible seeing her perform."
Countless Hours of Preparation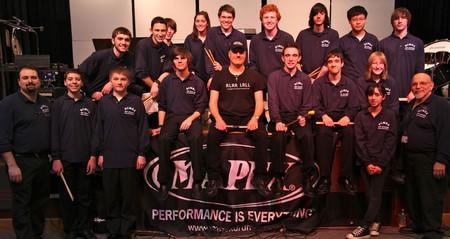 Ms. Flores' list of activities and honors is quite impressive, including the honors jazz band and honors wind ensemble since seventh grade, the Blue Devil marching band since eighth grade, participation in NYSSMA programs since sixth grade (she usually prepares three different NYSSMA pieces annually for different instruments or as part of solos and ensembles) and SCMEA events in both ninth and tenth grades.
The Huntington teenager has auditioned for and received a scholarship to attend the Usdan Center summer arts camp, been asked to play timpani in the Huntington Choral Society's winter concert, practiced with the Sunrisers marching band last summer and performed as a timpanist for orchestra this year
Many of these activities require countless hours of rehearsal and lessons to prepare. In addition to music, Ms. Flores enjoys art and sports. She's a member of the high school's tennis and fencing teams. On the days when there are sport practices or games and music rehearsals, the teenager leaves for school at 6:30 a.m. and finishes up with her activities around 9:30 p.m. A gifted artist, she recently had a piece chosen to appear on the cover of the Huntington Foundation's gala journal.
Ms. Flores recently performed in the K-Factor talent show at Huntington High School with her classmate and friend Hannah Lomele. The pair played a marimba duet with a "Super Mario Brothers theme.
Incredibly Talented Musician
"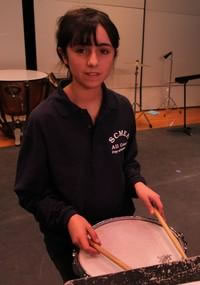 Nina is an incredibly talented musician," Mr. Giachetti said. "She is creative, musical and incredibly advanced. She's a member of the front ensemble of the marching band. She is performing multiple solos at Level 6. She loves the marimba, but is equally talented at snare drum and the other percussion instruments."
Ms. Flores chose percussion as her instrument as a third grader and began lessons through OOMPAH (Organization of Music Parents o Huntington) during the summer before fourth grade. When she was in sixth grade, band teacher Chelsea Jablon noticed Ms. Flores was playing at an advanced level and recommended the youngster assist with orchestra and chorus whenever a percussionist was needed. She loved the additional opportunities to perform and was always well-prepared for the concerts.
Ms. Flores is known as a very reserved teenager, unlike her older sister, Holly, who is outgoing and one of the top science students at Huntington High School. The sophomore said she appreciates and values all the opportunities and support she has been given by her band teachers and the school district's other music teachers.
While Ms. Flores' quiet nature can easily result in being overlooked, Mr. Giachetti spotted her talent and encouraged her to pursue an audition for the All-County percussion ensemble. "Nina truly loves performing and the challenge of mastering new music," said Julie Flores, the sophomore's mother.