Flower Hill Honors its Best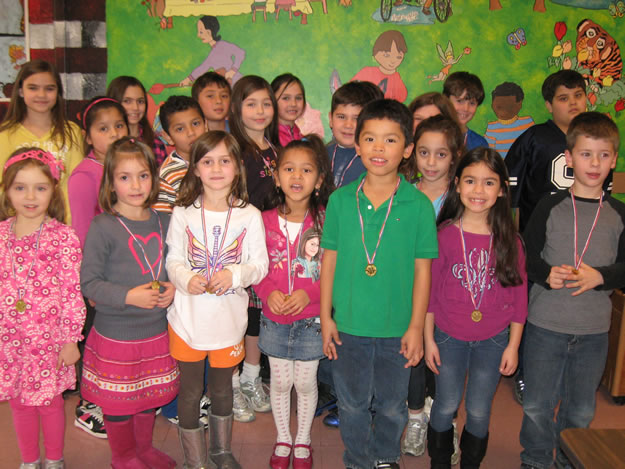 Flower Hill School swung its doors open for the first time more than a half-century ago and ever since has been filled with some of the most energetic and eager youngsters this community offers.
After 58 years, the school is still going strong. It has already has served thousands of students who have gone to most of the best colleges and universities in the world. Its teachers have always been among Long Island's best. There is a "homey" feel around the building, which is a welcoming sort of place.
"Our school community is special," Principal Marlon Small said. "We work hard to create an atmosphere that students look forward to spending time in and we welcome the participation of parents in our activities and events.
One recent day a group of bright, attentive youngsters were honored as Flower Hill's Star Students for the month of January. "These are all boys and girls who have worked hard, cooperated with our teachers and aides and been positive role models in their classrooms and around the building," Mr. Small said.
The honorees included Tess Calabria; Victoria Waters, Kornel Toth, Brooke Parks, Germain Thomas, Karen Maldonado, Jason Hernandez-Aparicio, Sophia Thompson, Shelsea Castillo, Isaac Swaab, Nia Sakellaropoulos, Gian Marco Vazquez, Emily Roberts, Aryanna Galloza, Kevin Campos, Grace McKean, Aaron Chin, Chloe Wheeler, Nicholas Bavaro, Ronan McCormack, Nicholas Lomler, Caroline Carrello, William Suarez and Natalie Stamatatos.
The students were given certificates and their names were announced over Flower Hill's public address system. A commemorative photo was snapped and will be displayed in the school lobby.