Applause for Washington Ways Honorees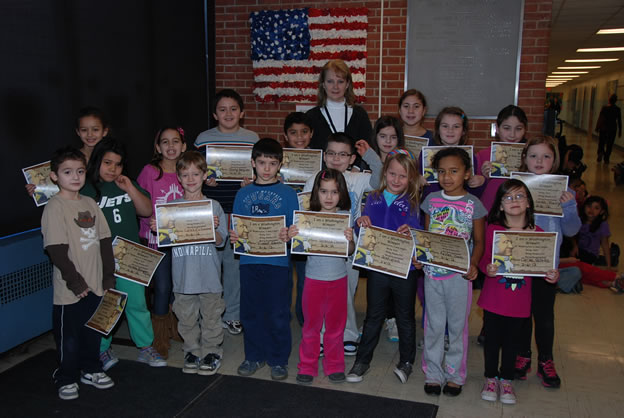 The Washington Ways program honored January's top students last week. The Washington Primary School initiative focuses on recognizing and rewarding positive behavior while encouraging students to be safe, respectful and responsible.
Students are given various colored tickets by teachers and support staff members for exemplary behavior. The tickets can be presented to the youngsters throughout the day.
January red ticket honorees included Veronica Cocoman, Dylan Hayden, Jose Cabrera-Zelaya, Jr., Damaris Mani-Munoz, Steven Jimenez, Vincent Grassi, Sarah Krisch, Carlee Schultz, Emily Plachta, Kaylee Jones, Lucas Cirlincione, Sarah Berry, Natalie St. Ours, Natalia Quinones-Franco, Noelle Boucetta, Mackenize Madison, Caitlyn Palermo, Jose Suarez, Johnny Menjivar and Tanya Reyes-Fernandez.
Washington's "Blue Ticket" classes for January included those of second grade teacher Suzy Dinehart and fourth grade teacher Diane Regan.
"It was delightful to recognize these fine students and classes," Mrs. Neville said.
White tickets are awarded weekly for good behaviors and actions in the classroom. White ticket winners are honored with special recognition in their classroom at the end of each week and their names are announced every Monday morning.
Red tickets are presented to individuals for notable good behavior outside of classrooms, including in hallways, buses, the playground and cafeteria, etc. At the end of the month, the student in each class with the greatest number of red tickets is recognized with a special certificate.
Principal Marsha Neville announces the names of the honorees over Washington's public address system as students lined up in the hallway outside their classroom cheer while the award winners make their way to main lobby.
Entire classes can earn blue tickets for positive group behavior out-of-the-classroom. Blue tickets are also awarded to the two classes within the building with the most tickets overall. The new program has quickly caught on and students enjoy being cited and collecting the colorful tickets.