Woodhull Experiences
iGame4 Fitness Craze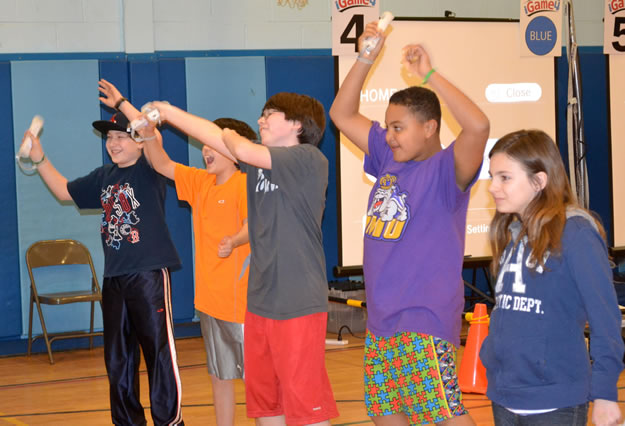 2012 started out on a healthy and fun note for the Woodhull Intermediate School community, which turned out in healthy numbers for the iGame4 video-fitness family extravaganza in the school gym and cafeteria.
Woodhull's Family Fitness Night was sponsored by the school's PTA. Its goals were simple: To encourage physical fitness along with a healthy lifestyle "by integrating active video games into school curricula," according to a promotional flyer.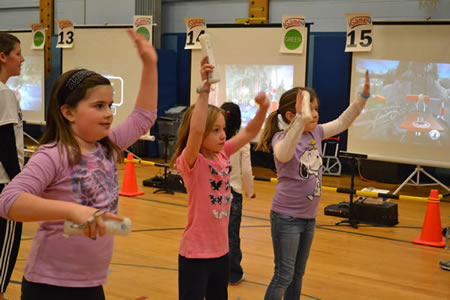 These weren't your typical sedentary video games. They required a degree of physical activity that raised heart rates and had participants sweating. Students had a preview of the iGame4 program during their physical education classes. The evening family night drew a crowd of about 150. Woodhull PTA President Julie LaBella termed the initiative "a huge success."
Woodhull students and their families appeared to take delight in playing activity-inducing video games that went by such titles as "Just Dance," "Fruit Ninja" and River Rapids," to name a few.
The Woodhull cafeteria was transformed into a dance studio as fitness instructor Edna Parker managed to get the crowd dancing and exercising to Zumba, a fitness program inspired by Latin dance. "Children and parents learned the basic moves, music and history behind this sensation," parent Debbie Chin said. "Everyone enjoyed Ms. Parker's energy and encouragement."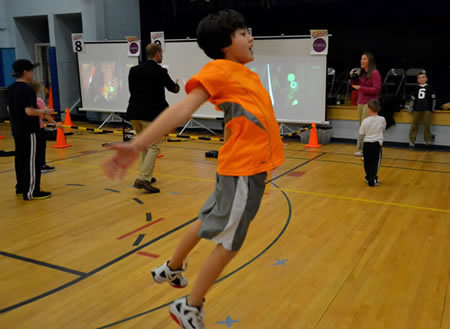 The exercise circuit included strength training and coordination techniques taught by personal trainer Christine Miller, who shared helpful tips on how to fit fitness into even the busiest family's schedule and keep it fun.
Once the large crowd was thirsty, tired and sweaty, too, it was time to enjoy healthy beverage samples brought to the school by Tropical Smoothie Café on Wall Street in Huntington village.
Some have likened iGames4 to X-Box or Wii, but with more of a physical fitness component and large oversized screens. Huntington Superintendent James W. Polansky stopped by and played Fruit Ninja, "which was entertaining," PTA Council President Bari Fehrs said.
Putting the initiative together took a lot of work by many Woodhull PTA members, but Mrs. LaBella believes it was well worth the effort. "Everyone had a great time," she said.