Matthew Beeby Performs at
Duke University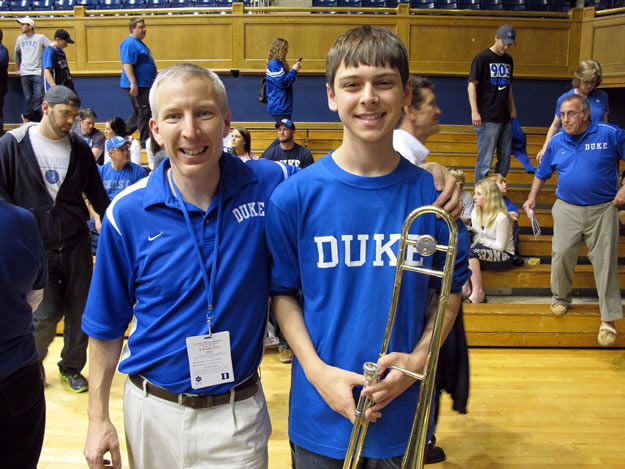 This is one of those feel good stories that will make most people smile. Matthew Beeby is an All-American kind of teenager. The Huntington High School junior recently played trombone with the Duke University alumni pep band at a pair of games at Cameron Indoor Stadium on the Duke campus.
He's a hardworking, creative and articulate young man who is always up for a new adventure. The story goes like this: The Beeby family is big fans of the Duke men's basketball team. Donald Beeby, Matt's father, is a Duke alum who just so happens to have played the alto sax in the pep and marching bands there.
"As an alum, he is invited back to play in the Duke alumni pep band whenever extra musicians are needed," Mr. Beeby said. "Family members who play instruments are invited to participate, too. My dad and I performed at a game when the team traveled to play at Madison Square Garden last season."
Prior to the game at MSG, the teenager had to learn the music and after arriving at the game he found out there are different moves band members have to execute with each song. So, he learned those moves, too.
"It was a great experience and I wanted to do it again," Mr. Beeby said. "This year there were openings in the band during the holiday break at Duke University. My entire family signed up to go and we went down to North Carolina."
Joining the Huntington junior on the trip was his father and mother, Claudia Beeby. "We were able to play for two games at Cameron Indoor Stadium," the teenager said. "Both were televised on ESPN and ESPN U. It was even better than the games in New York City. There was a deafening roar from the crowd when the team and coach entered."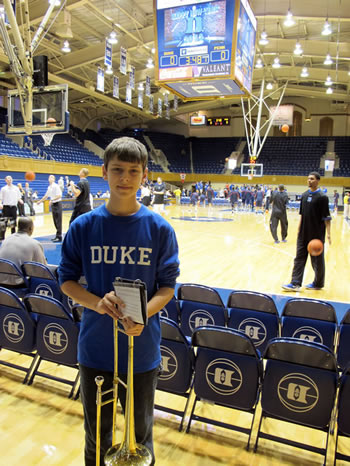 Duke's fans, affectionately known as "Cameron Crazies," lived up to their reputation. "They have their faces painted and jump up and down and scream during the whole game," Mr. Beeby said.
Duke's mascot is a Blue Devil, just like Huntington High School. The mascot entertains fans during breaks in the action. "The pep band started cheers for the crowd and played music before the game started, during time-outs, media breaks, at halftime, and at the end of the game," Mr. Beeby said. "I would recommend participating in a college alumni band to anyone who enjoys college sports and music.
The Huntington teenager fit in nicely with the alumni band, playing such songs as "Cheeseburger in Paradise," "Devil with a Blue Dress," "Can't Turn You Loose" and the Duke fight song, among others. The band succeeded in keeping fans pumped up throughout play.
There's no telling where Mr. Beeby's sense of adventure will take him next.