Juli Coraor is Huntington's 2012 Valedictorian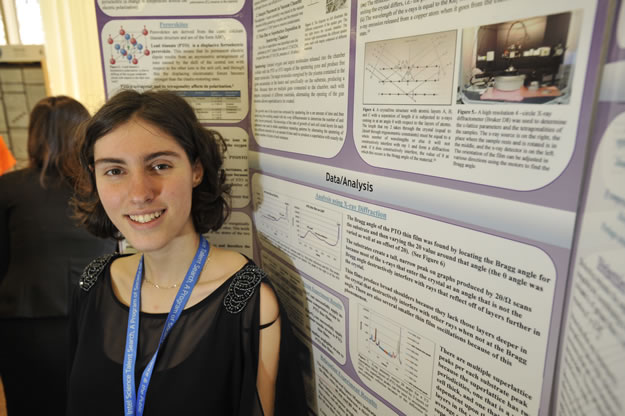 Juliana Coraor recently met President Barack Obama while being feted in Washington, DC as one of the top high school student-scientists in the United States. While the Huntington High School senior was understandably excited by the encounter, she's quite impressive in her own right.
Ms. Coraor is Huntington's Class of 2012 valedictorian. She's eyeing the University of Chicago as the next stop on her educational journey, "if I can convince them to increase their financial aid offer to equal that of Princeton, Yale or Cornell," she said.
Huntington's top scholar was accepted by every school she applied to including the University of Chicago, Yale, Princeton, Cornell, Columbia, UC Berkeley, Harvey Mudd College, Stony Brook and Northwestern.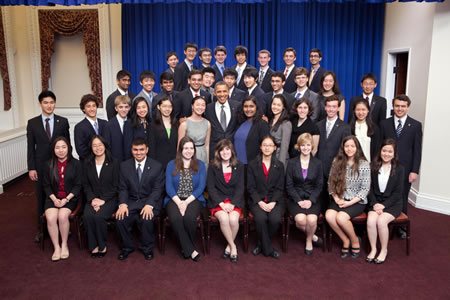 "If I cannot go to the University of Chicago, I will most likely attend Yale, Cornell, or Stony Brook," Ms. Coraor said. "I plan on double majoring in physics and chemistry so that I can eventually get a PhD in condensed matter physics or solid-state chemistry and pursue my goal of becoming a professor at a research university in that field of study."
At Home on SBU Campus
The senior is Huntington High School's first Intel Science Talent Search finalist since 1950. Ms. Coraor was one of 40 finalists from 16 states that gathered in Washington, DC last month to showcase their research and meet the president and leading government officials and scientists
The teenager has clearly been doing her homework during the college selection process. "I know most of the high school has been trying to convince me to go to Princeton or Yale because of the prestige, but UChicago is fifth in the nation, much better than those others in the sciences, and is one of the most under appreciated universities in the US," Ms. Coraor said.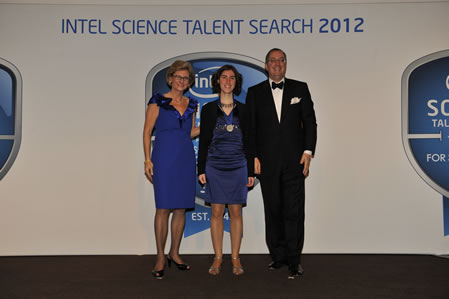 Huntington's valedictorian is a regular presence on the Stony Brook University campus. She has been taking classes there since the fall of her junior year and has continued doing so every semester since. By the close of the current spring semester she will have completed 22 credits. She is also involved in the Columbia University science honors program, which allows Ms. Coraor to enroll in courses there during the school year.
A member of Huntington High School's National Honor Society chapter, as well as the science and math honor societies, Ms. Coraor has made a practice of participating in various academic competitions, including Quiz Bowl, Science Bowl, Science Olympiad, Mathletes and Envirothon. She received honors in the National Chemistry Olympiad as a sophomore and plans on sitting for the exam again this year. She even found time to be involved in the Key Club as a sophomore.
Summer Research Programs
Ms. Coraor's formal research activities began in earnest when she participated in the Garcia program at Stony Brook in the summer of 2010, between her sophomore and junior years.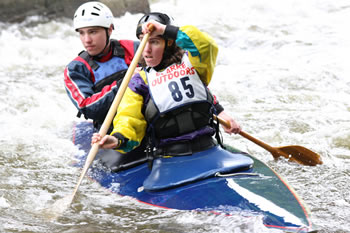 "That research attempted to solve the question of whether dental pulp stem cells, once differentiated into osteoblasts when placed in a collagen hydrogel, could remain differentiated after being removed from the hydrogel and placed on glass," Ms. Coraor said matter-of-factly. She presented that research in several competitions and became a Siemens semi-finalist and won first place in her category at the New York State Science and Engineering Fair.
Last summer Ms. Coraor participated in Stony Brook's Simons research program, conducting research on the effects of strain on ferroelectric superlattices with her college physics professor, Dr. Matthew Dawber.
That work led to Ms. Coraor reaching the pinnacle of the Intel competition. Over the course of a week in Washington, DC, she not only met the president but even had an asteroid named after her, but that's another story.
"I will be continuing my research in ferroelectrics this summer," Ms. Coraor said. "I did not have a chance to do much in terms of research during the school year, however I have been returning back to the lab periodically to catch up on what's going on."
Loved Every Class at HHS
Although leading a very busy life, Ms. Coraor has done her fair share of work with Huntington's science honor society, pitching in to help with fundraising events ranging from plant sales to a band festival. She's also been a member of the protein modeling team, and has been a peer tutor.
"I've loved every class that I've taken at Huntington High School," Ms. Coraor said. "Even though I am a science and math person, I really have enjoyed my humanities courses just as much as my other courses. This is probably because of my enthusiastic and devoted teachers. One can't help but love the subject matter just as much as they do."
The senior has developed close relationships with science teachers Lori Kenny and Dame Forbes. Each of the faculty members has served as a mentor-advisor to Ms. Coraor and they hold her in the highest esteem.
"I really have to thank Mrs. Kenny and Mrs. Forbes for keeping me challenged in science," Ms. Coraor said. "If they weren't willing to relinquish their time to run practices for Science Bowl and Quiz Bowl and organize Science Olympiad, my life would not have been as enriched as it is now."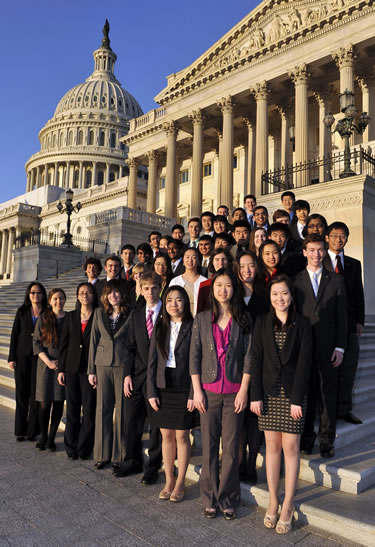 Outside of school and the lab, Ms. Coraor has engaged in whitewater slalom racing on a regular basis, winning second place in the K-1 W Jr. (15-16 year old) division of the 2010 national championships.
The senior is expected to make a final decision about college later this month. "I am going to miss everything about Huntington High School, but mostly I am going to miss the teachers who have motivated me to do my best both inside and outside of my academics," Ms. Coraor said.