Summer Field Hockey Camp Set in Huntington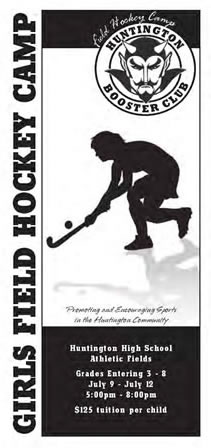 The Huntington Booster Club is sponsoring a girls' field hockey camp on July 9-12 from 5-8 p.m. on the synthetic turf field at Huntington High School. Registration is $125 per player.
The camp is open to girls entering grades 3-8. It will be directed by Blue Devil head varsity coach Jillian Seher, who has coached at the school since 2004. Mrs. Seher obtained her undergraduate degree at SUNY College at Cortland and earned a Master's degree at Brooklyn College. She teaches physical education and health at Long Island City High School in Queens. Camp staff will be comprised of former Blue Devil varsity players.
The camp will feature skill instruction in dribbling, dodging, footwork and offense/defense. There will also be 3-on-3 and 4-on-4 games and competitions and larger group games and tournaments. The high school gym has been reserved for the camp should there be inclement weather.
"This is a great opportunity to practice new skills and will be enjoyable for everyone," according to the camp brochure. "The camp will be divided among different age and ability levels, providing challenging activities and competition for all who attend. Stick work and small team games will be used to stress the concepts and skills necessary to become a better field hockey player."
For a copy of the camp brochure, log onto the Huntington School District's website at www.hufsd.edu. Click on the School Community link and then the Booster Club tab on the left side of the screen and then select Forms & Files or click on the Athletics link and then on Summer Programs.