Huntington Sophomores Create
Chalk Flood Art
Huntington Station Awareness Day was seven hours of pure fun for the several thousand folks of all ages that turned out for the second annual festival. Three Huntington High School sophomores participated in one of the most interesting of the many activities featured during the community gathering: chalk flood.
Julianna Barca, Angelica Tome Radigan and Ben Nikodem were supplied with chalks and pastels, which they in turn used to create works of art expressing their creative ideas. "All three of us had very different and unique pieces," Ms. Barca said. "The day was very fun!"
"The town committee for the Huntington Station Awareness Day celebration had wanted to have a number of professional artists sign up to do the chalk flood activity," said Joan R. Fretz, the Huntington School District's director of fine and performing arts. "They were unable to secure professional artists to participate and a week before the celebration day approached me to inquire if I knew of any artists that might be interested. I immediately suggested bringing this opportunity to our talented high school art students who are so skilled and creative. I thought they would really enjoy an opportunity to do something in the community."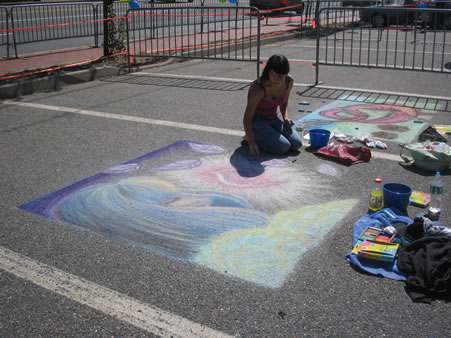 Four Huntington High School students applied for participation, but one had to withdraw following a death in the family. "The students created their own large scale free-hand drawings, using the same chalk supplied for the children who came to draw at the event," Mrs. Fretz said
"I thought it was great to see how my fellow artists worked and see their final results, and I really enjoyed watching the process," Ms. Barca said. "It was really amazing how so many people were interested in watching us work. Crowds of people gathered around us and took pictures and asked us questions, which was really spectacular, especially for aspiring artists like us."
Adjacent to the chalk flood area was one for the public to create chalk art. "We were able to witness the other people in our town participate in creating artwork," Ms. Barca said. "A lot of people from our community were at the whole event and I really loved being able to see everyone coming together."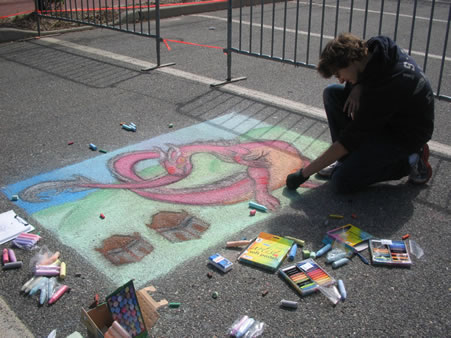 The Huntington students were an impressive trio. "People really enjoyed watching their artwork come to life on the parking lot pavement," Mrs. Fretz said. "It was exciting to see them at work. They really enjoyed it. I'm sure in the future we could have more participants with a little more notice."
Younger festival-goers were especially intrigued with the Huntington teenagers' art work. They posed plenty of questions and asked the sophomores to teach them chalk art skills.  
"I took it as a huge compliment that people wanted to learn from us," Ms. Barca said. "I think that an event like this opened their eyes a little to what a person can do with such a simple thing as chalk. I really hope our artwork inspired younger kids to express themselves and aim for something higher. Personally, I have been inspired by my art teachers to reach deeper to express myself through art."
Over the course of the day, the chalk art area drew a surprisingly large degree of interest. "The purpose of the chalk flood wasn't just for us three to draw with chalk at a fair, but to show the people and kids of Huntington the talent of everyone who participated," Ms. Barca said. "The whole thing was really fun and just had a very positive feeling to it."
Once the Huntington trio had finished creating their colorful works of art, they moved about the festival, taking in music acts, games and vendor booths. "Overall, I thought the day was very exciting and eventful and I really loved working with Angelica and Ben to create artwork for our community to enjoy and hopefully be inspired by," Ms. Barca said.