Blue Devil Boys' Soccer Scores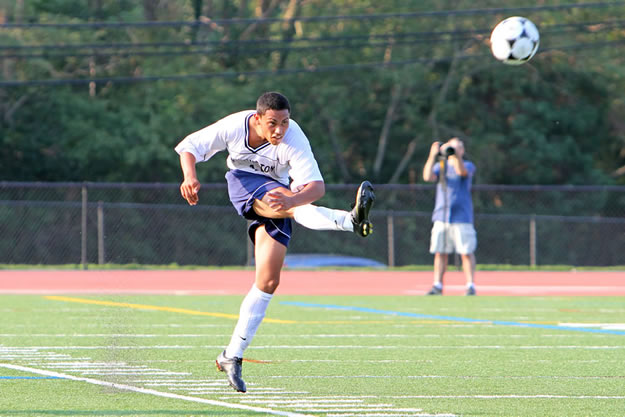 A soccer team has to score goals to win and that's just what the Huntington High School varsity boys' squad has been doing en route to a 3-1 mark in its first four games.
"The kids are playing well, but we will face our toughest competition in the next two weeks," said John Pagano, the Blue Devils' veteran head coach.
Huntington opened its league schedule with wins in its first two games, outscoring opponents Hauppauge (5-0) and Copiague (6-0). The Blue Devils and Hauppauge played to a scoreless first half tie before Huntington's offense exploded for five goals. Ricky Velasquez and Adil Gowani scored two goals apiece and Bobby Scott added a goal and two assistant. Sergio Gonzalez and Jon Pena also picked up assists. Ari Moskowitz stopped five shots in goal to preserve the shutout.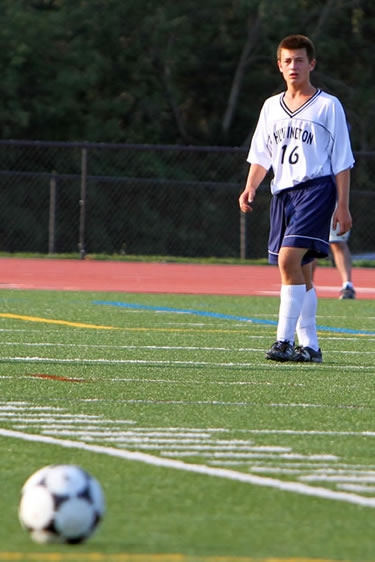 Huntington scored three first half goals against Copiague and never looked back during a 6-0 victory on the south shore school's home field. Velasquez notched a hat trick with three goals. Scott had a goal and an assist and Hugo Davila and Josh Canales also scored. Christian Campos assisted on two goals and Andone Plieitez also tallied an assist. Moskowitz recorded three saves and earned another shutout.
In the season opener, a non-league game against Rocky Point, the Blue Devils put the ball in the net seven times, topping the Eagles, 7-1. Velasquez scored three times and Davila, Wilson Martinez, William Ortez and Gerardo Valles also put shots past the Rocky Point goalie.
Huntington's lone blemish so far came in a non-league contest at home against Sayville. The Golden Flashes led 1-0 at halftime and padded the advantage with two second half goals, holding the Blue Devils scoreless in the process. Moskowitz stopped five shots in goal.
Pagano's squad features a roster evenly balanced between veterans and talented newcomers to the varsity. The coach has been dogged in his quest to elevate Huntington's program into Suffolk's top tier. In Velasquez he has one of the county's best offensive players. The skilled sophomore is tied for the lead in Suffolk with eight goals.
If the Blue Devils continue scoring and if their defense keeps up its rugged style of play, the post-season could be a happy time in Huntington.