Ally Kiley is the Harvard Kid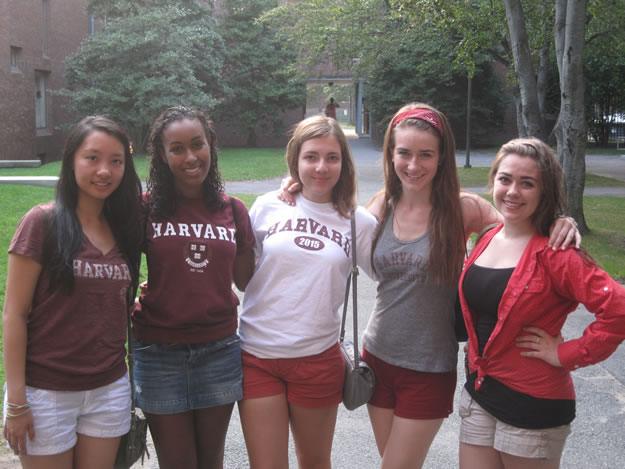 Alexandra Kiley sure does get around. At this time last year she was walking the halls of Huntington High School, serving as the school's student council president, earning typically stellar grades, memorizing her lines for the fall drama club production and playing a part in most social and charitable events.
Today the dynamic teenager is in her freshman year on the Harvard College campus and is already well on her way to fashioning an experience that satisfies all of her varied interests.
"So far, I'm loving it here," the Huntington alum said about her early weeks on the Cambridge, MA campus. "I'm taking my required expository writing course, but it's actually really cool and our topic is 'obsession.'  That class is basically to practice college writing but we're doing it through obsession in [Sigmund] Freud's work and later 'A Picture of Dorian Gray' and then 'Black Swan,' the movie."
Ms. Kiley's is also enrolled in Introduction to Archaeology and a reading seminar offered by the history department. "It's early American history from the Revolution to Jackson," she said. "I was really excited to take this course because I'm planning on majoring in history and this class really goes into the topic in depth. It's so much work and a little overwhelming because I'm the only freshman in it, but the topic really interests me and so far I'm enjoying the class."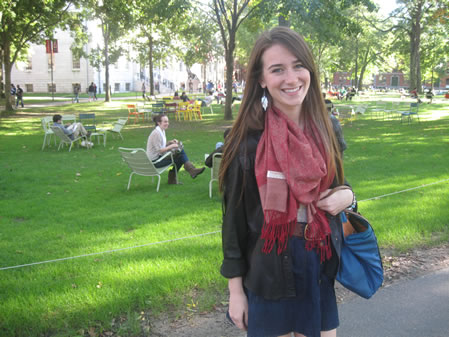 Never one to shy away from hard work, Ms. Kiley earned a Gold Award from the Girl Scouts as a high school senior after completing more than 65 hours of community service creating a library for the Tri-CYA. She collected, catalogued and organized a library that now stands at over 800 books. The teenager participated in Girl Scouts since pre-kindergarten.
After starring in numerous Huntington High School plays and musicals, it's not surprising that Ms. Kiley's favorite Harvard class is an acting workshop. "It's such a nice break in my week to be able to relax and play and get graded on it," she said. 
Ms. Kiley sets high standards for herself and it takes plenty of effort and sacrifice to meet them, especially at a school as prestigious as Harvard. "The work load is definitely intense," she said. "Our library is open 24 hours and I've found myself hunched over a desk there until 2 or 3 a.m. most weeknights. But, I love all the classes I'm taking so it's completely worth it."
It's not at all surprising that the Huntington grad has decided to participate in some extracurricular activities. Ms. Kiley joined STAGE, the acronym that the Student Theater Advancing Growth and Empowerment club goes by. Along with her fellow STAGE members, she will be teaching acting in after-school programs in Boston area elementary schools. "The club basically combines awesome people, acting, community service and working with kids so I couldn't be more excited," she said.
During a recent interview, Ms. Kiley eagerly shared some additional good news. "I got into my first play here," she said. "I had a crazy week with tons of auditions, but it paid off. I'll be playing Polonius and an assortment of other parts in 'Rosencrantz and Guildenstern Are Dead' from Thursday October 13th to Saturday October 15th. I'm so excited!"  
Ms. Kiley was one of the mainstays of Huntington High School's drama club and her fans have hoped she'd take the stage at Harvard. "Doing theater here is a unique experience because all the plays are student produced, directed, managed and run," she said about Harvard. "Also, this is the shortest rehearsal period I've ever had. Luckily, Mr. [Michael] Schwendemann (faculty advisor) and the drama club at Huntington prepared me well."
She's also "comping," or trying out for the Hasty Pudding Business Board. "The Hasty Pudding is an all male theater company here that's been around over 150 years doing student written comedy drag shows," Ms. Kiley explained. "I'm working to be a part of their business team, which requires me to sell ads for the program."  
Ms. Kiley transferred into the Huntington School District as a fourth grader and never looked back. "Stepping into my classroom at Huntington Intermediate was like stepping into a whole new world," she told the crowd at last June's commencement exercises. "That was the year when I set myself on the path that I would follow throughout my time in school."
Last year fall she helped plan Huntington's Homecoming weekend activities, including the Float Night, a parade through town, halftime festivities and an evening dance attended by 400 students. She was even crowned Homecoming queen.
Interesting classes and fun clubs are now keeping Ms. Kiley busy as she adapts to college and moves on with her life. "Outside of all this stuff, I've met some really great people and have already made a lot of friends from all over," she said. "Cambridge and Boston are such cool places to be. I haven't forgotten Huntington, though. I'll be really sad not to be folding flowers for Homecoming!"