Ryan Mulligan Embraces Life at
Kings Point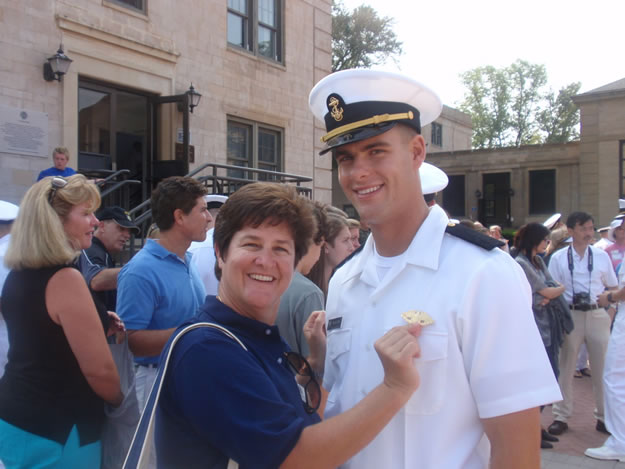 Ryan Mulligan was perfectly clear on what he was getting into when he was appointed to the United States Merchant Marine Academy. The Huntington High School Class of 2011 member was well-prepared for his entry into military life and is doing well on the Kings Point campus.
Mr. Mulligan began his new life at the academy on July 7 as a plebe candidate. "They began with indoctrination, which lasted for about 2½ weeks," said Jennifer Mulligan, Ryan's mother. "It is an intense program, with a lot of physical training, marching, training on the water, survival at sea training, firefighting, and mostly learning to work as a team." Upperclassmen serve as drill instructors for the program.
The Huntington alum is up and out of bed by 5:30 a.m. each day. He goes non-stop until at least 10 p.m. If he is scheduled to stand night watch, Mr. Mulligan's day stretches even longer.
"We only were able to talk to him for five minutes one Sunday during all of indoctrination, but we sent him letters," Mrs. Mulligan said. "They did post pictures of 'indoc' every day, so we could get an idea of what they were doing."
Mr. Mulligan's regular schedule of classes began the last week of July. Every plebe takes the same basic courses during the first trimester, which culminates with each individual being asked to choose between going "deck" (navigation, piloting the ships, etc.) or "engine" (engineering, working in the engine room, etc.). "Most know what they want before they start," Mrs. Mulligan said.
As for Mr. Mulligan, he has decided to "go engine" and is aiming for a major in engineering systems, which some consider to be Kings Point's toughest major. He will learn how to build, design and maintain every type of marine power plants. "I'm amazed at all the things he will be learning, such as welding, electrical systems, diesel, generators, air conditioning and heating," Mrs. Mulligan said. "They even have a nuclear power plant option."
The former Blue Devil athletic star plans to play lacrosse for Kings Point. He's also been spending a fair amount of time on the waterfront. "They have a great sailing program, and he has been sailing when he has a chance," Mrs. Mulligan said.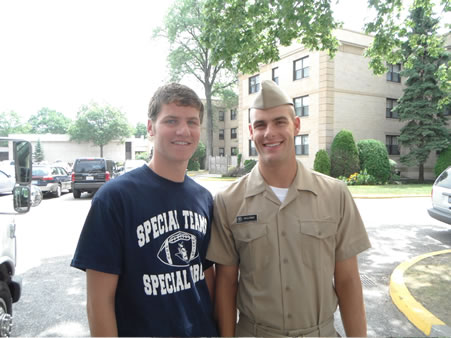 The academy's lacrosse team works the sidelines for the football games, so the Huntington grad manages to get on the football field. "Even if he's only moving the chains, he's still having fun and he doesn't have to do all the pushups every time Kings Point scores," Mrs. Mulligan said laughing.
Mr. Mulligan is doing well at Kings Point. He was recently sworn into the Navy Reserve and the Merchant Marine Reserve and accepted into the regiment after a challenging summer of indoctrination activities and academic classes. "The ceremony was very impressive," Mrs. Mulligan said.
This is a busy time on the Kings Point campus and Mr. Mulligan has been focusing on maintaining high grades. He knows the work is steadily becoming more difficult and professors are known to move through material very quickly.
As most college students are just settling into their fall semester classes, those at Kings Point are set for their midterm exams. "Ryan is taking physics and calculus now, and he feels well prepared after taking AP physics and calculus at Huntington High School," Mrs. Mulligan said. The Huntington alum is also enrolled in nautical and English courses and several other classes.
Acceptance Day is always a big deal on the Kings Point campus. It is when plebe candidates are accepted into the regiment and become full-fledged plebes. But, plebes have it tough. "They have to clean everything and they are ordered around a lot," Mrs. Mulligan said. "They have to learn to take orders before they can learn how to lead others." The regiment marches around the Kings Point campus several times a day.
Mr. Mulligan is firmly entrenched into a routine at this point, so much so that his family doesn't hear from him very often. "They're not allowed to use cell phones, but we can e-mail him," Mrs. Mulligan said. "Plebes cannot leave the academy, except for approved Liberty at holidays. Fortunately we live close."
Huntington High School teachers and the football and lacrosse coaching staffs all held Mr. Mulligan in high esteem. He was known as a leader on and off the field, someone that could be counted upon and a person whose preparation was second to none.
"Kings Point is nothing like college, but it's just right for Ryan," Mrs. Mulligan said. "He's learning to appreciate the little things, like a homemade meal or being able to close the door to his room! And he's being challenged in many ways."