Huntington Station Throws Itself
a Party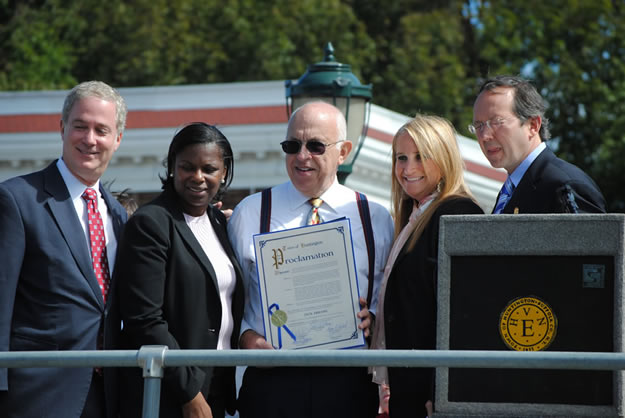 A big crowd numbering in the thousands participated in last Saturday's second annual Huntington Awareness Day festival and Unity in the Community parade along New York Avenue in Huntington Station. There was food, games, vendor booths covering a variety of interests and even an antique car show.
Organizers were overjoyed as peoples of all ages, nationalities, religions and cultures enjoyed each other's company while coming together in an impressive display of community unity.
Led by grand marshal Jack Abrams, a retired Huntington School District principal and the district's founding School Heritage Museum curator, the parade stepped off at E. 15th street and continued down New York Avenue to the fairgrounds set-up in the commuter parking lot located between Railroad and Church streets. The Blue Devil marching band performed in the festive procession, producing booming and impressive sounds along the route.
The crowd consisted of folks from across the town. Residents from the Huntington and South Huntington school districts formed a majority of the festival's participants and almost to a person exuded pride in the area.
"It was a day to let Huntington Station shine," said Alvin White, who co-chaired the event along with Huntington Supervisor Frank Petrone and longtime community activist Dolores Thompson. "There were a tremendous number of excited children who were really happy to be there and who had a great time."
There were dozens of tents, public service vendors, games and rides. The well-known local rock band KNOMAD was on stage for several sets that had people dancing. The crowd included Huntington School Board members and district administrators, leaders of non-profit and religious organizations, teachers and public officials and a throng of people of all ages.
Event organizers said the purpose of the parade and festival is to bring together as many diverse elements of the community as possible in a display of unity and solidarity.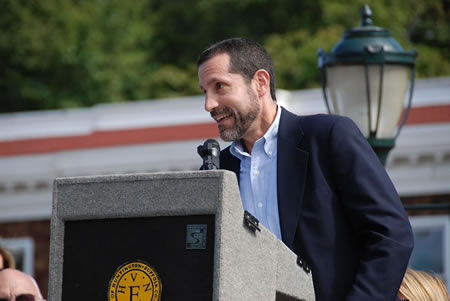 Elected officials gave short speeches following the parade. The speakers included new Huntington School District Superintendent James W. Polansky who called for all segments of the community to work together. Young people of all ages spend the better part of the day in an around the fairgrounds, enjoying the games and events.
"The Huntington Station Festival highlighted the extraordinary talents of youth in our community and the commitment of our educators and educational leaders to this community," said Rebecca Sanin, who played a key role in organizing the day. "Our new superintendent and many teachers came and enjoyed a day of celebration with community members and families." 
"It was really awesome," said one third grader who attends Washington Primary School. "We all had so much fun."